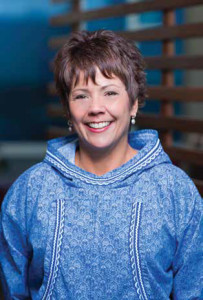 Happy 2017! If you're like me, you look forward to the fresh start each New Year brings. Perhaps you aim to improve your health, better manage your finances, spend more time with family and friends or learn a new skill. Whatever your goals, I hope 2017 brings you success and much happiness.
As we enter the New Year, CIRI is working to maximize benefits from current investments, explore new opportunities and overcome challenges in certain sectors. An exciting development I'm pleased to announce is that of a new acquisition for the CIRI family of companies. On Jan. 20, our subsidiary North Wind Group closed on a transaction to acquire a company called Portage, Inc. North Wind oversees several companies primarily focused on environmental, engineering, construction and technical services and consulting. Last year, the Idaho-based company scored two large, multi-year environmental cleanup contracts: the Portsmouth Gaseous Diffusion Plant in Piketown, Ohio, and the Idaho National Laboratory near Idaho Falls, Idaho.
Since its founding in 1997, North Wind has grown to a group of companies that employ more than 800 highly-skilled professionals in more than 20 office locations throughout the country. North Wind's performance has been a great benefit to our shareholders and employees, and the acquisition of Portage portends even greater success. You can find out more by visiting www.NorthWindGrp.com.
At the Fireweed Business Center, work is starting to prepare the tenant space for Umialik Insurance Company. We are very excited Umialik will be joining us in our building, occupying the fifth floor. Coupled with existing tenant Stantec's expansion late last year, the Fireweed Business Center will be 70 percent occupied in 2017, and we continue to see strong interest from potential tenants who are drawn to the building's quality, energy efficiency and spatial comfort. At the same time, CIRI's former headquarters at 2525 C Street remains a premier midtown Anchorage property and a strong asset in CIRI's real estate portfolio.
CIRI develops products and services to meet our business needs, and in many instances they lead to potential new sources of revenue to boost our bottom line. An example is the shareholder management system that CIRI built to handle our shareholder records. The software is uniquely structured for Alaska Native corporations, and we recently started marketing a cloud-based version to village corporations.
Another example: CIRI uses drone technology for a variety of our marketing and communications needs. Unmanned aerial vehicles, known as UAVs or drones, are remote-controlled flying robots that can be used for aerial photography, videography and inspection. Drone operators are certified by the Federal Aviation Administration – the same national authority that issues pilot licenses. In addition to utilizing drone technology for its own purposes, CIRI is now marketing drone services to other businesses. Our new company, Arctic Aerial, is poised to work on a range of projects, including real estate, surveying and mapping, land imaging, inspections, event coverage and more. Find out more at www.ArcticAerial.com.
Shareholders in Alaska may have seen recent news headlines lamenting the state of the Alaska economy. Last month, an article in the Alaska Dispatch News stated that Alaska is facing a recession, with job losses accelerated by low oil prices. Unfortunately, CIRI is not immune to the financial challenges facing Alaska and the oil industry, largely due to falling oil and commodity prices. Our subsidiary Cruz Energy Services has had a difficult year in North Dakota, and our private equity portfolio has also felt the impact of low commodity prices. It is another reminder of the need to maintain a diversified portfolio to weather market-specific fluctuations.
As always, CIRI is actively pursuing business opportunities that will allow us to deliver strong financial results. The future is yet unwritten, but I'm excited about CIRI's opportunities as we embark on a new year working to deliver strong and consistent returns to you, our shareholders.
Warm regards,
Sophie Minich