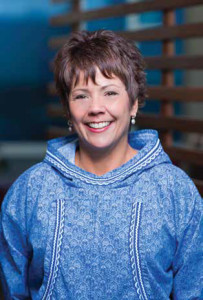 As the days grow longer, we embrace all that spring has to offer and anticipate the warmer days ahead. As for me, I know I look forward to getting outside – biking, fishing and golfing are just a few of the activities I enjoy during the warmer months of the year.
I was fortunate to speak at Southcentral Foundation's 20th Annual Gathering celebration, held Feb. 4 in Anchorage. A family-friendly health fair that is free and open to the general public, The Gathering shares health information and celebrates the benefits of physical, mental, emotional and spiritual wellness.
According to the U.S. Department of Health and Human Services' Indian Health Service, Alaska Native people have long experienced lower health status when compared with other Americans. In some cases, this can be attributed to inadequate education, discrimination in the delivery of health services and other quality-of-life issues rooted in economic adversity.
The prevalence of obesity in Alaska Native populations has increased dramatically over the past 30 years, bringing with it numerous chronic diseases including type-2 diabetes, heart disease, stroke, arthritis and respiratory problems. Studies show that obesity begins early for many Alaska Native children and it is also a significant problem for the adult population.
Exercise is one way to counteract obesity and it boasts numerous other benefits as well, such as reduced stress, improved mood and energy and better sleep. We are fortunate to live in a region that makes getting outdoors easy. And we need not wait for summer to enjoy the recreational bounty the outdoors has to offer – downhill and cross-country skiing, snowshoeing and ice skating are activities available to us during the colder months of the year.
The Centers for Disease Control and Prevention recommends that adults get a mix of moderate- or vigorous-intensity aerobic activity and muscle-strengthening activity each week. The minimum amount of aerobic activity recommended is 30 minutes of moderate-intensity activity five days a week (walking counts!), 25 minutes of vigorous-intensity activity three days a week or an equivalent combination. Muscle-strengthening activity is recommended at least two days a week.
Of course, exercise is only part of the equation. As in many health categories, when it comes to nutrition, Alaska Native people often fall short. Of a percentage of adults who report having eaten at least five servings of fruits and vegetables per day during the past month, Alaska Native people statewide are 3 percentage points behind other Alaskans (9 percent versus 12 percent). In the Northwest Arctic (Kotzebue region), among Alaska Native people, that number is as low as 2.5 percent.
Thankfully, many of the wild foods our ancestors relied upon are nutritionally rich and readily available in our region. Salmon, halibut, moose, berries, sea lettuce, pineapple weed and spruce tips can be hunted or harvested. In-season produce at your local grocery store is generally more nutritious and less expensive, and farmers markets sell locally-grown fruits and vegetables year round. Although, in some areas of the state, fresh produce is limited and prohibitively expensive, more and more villages are starting to grow produce locally. Within our own region, the Tyonek Tribal Conservation District administers a community garden where everyone works together to care for the plants. In 2016 the garden produced over 1,800 pounds of produce, a remarkable achievement!
In the end, it is important to recognize that health and wellness begins with each and every one of us, and it is something we should work on each and every day. By continuing to strive to lead heathier lives, and ensuring our children eat well and are physically active, we achieve better productivity, improved work performance and deeper fulfillment.
Warm regards,
Sophie Minich