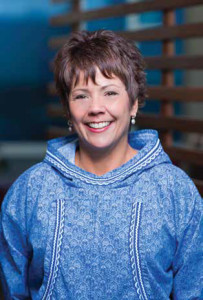 Thank you to all who participated in person or via proxy in the 44th Annual Meeting of Shareholders, held June 3 in Anchorage. Voting to elect the members of the CIRI Board of Directors is an important shareholder responsibility; our 15-member Board sets the overall direction in the conduct of the company's business and initiates, develops and adopts the corporate policies, business plans and strategic goals carried out by the CIRI management team. Voting in elections ensures your voice is heard when it comes to selecting the individuals who will guide the company's success and demonstrate the leadership and judgment best suited to fulfill its mission.
The preliminary results of the election for CIRI Directors indicate the following shareholders will serve a three-year term ending in 2020:
Robert E. Harris
Roy M. Huhndorf
Katrina M. Jacuk
Patrick M. Marrs
Samuel G. Spangler
We were pleased and honored to hold the Annual Meeting at the Nuka Learning and Wellness Center on the Southcentral Foundation (SCF) campus. The Nuka Center is a special place, characterized by large learning-circle spaces that facilitate discussion, support and healing. SCF's Nuka System of Care is a relationship-based, customer-owned approach that helps Alaska Native people achieve physical, mental, emotional and spiritual wellness. CIRI is proud to include SCF — whose system of care is now a model for the nation — among its family of nonprofit organizations.
Attendees at the Annual Meeting heard a presentation about the company's previous year's financial performance. Many exciting developments occurred in 2016, including a number of investments in the energy and infrastructure segment and the sale of CIRI Alaska Tourism Corporation to Viad Corp. Additionally, in early 2017, CIRI subsidiary North Wind Group acquired environmental remediation services company Portage Inc. We believe these new investments will improve our financial results and grow shareholder dividends going forward.
We accomplished a great deal in 2016, working to fulfill the CIRI mission of promoting the economic and social well-being and Alaska Native heritage of our shareholders — but the economic challenges facing Alaska means it's time to embark on bold new initiatives.
Looking ahead, part of CIRI's investment strategy will involve specialty finance, which you can read about in this month's lead story. These opportunities are available to CIRI because of the strong partnerships we have forged with large-scale, sophisticated investment partners.
As we move into summer, I hope you are able to take advantage of the warmer season and enjoy it to the fullest.
Warm regards,
Sophie Minich