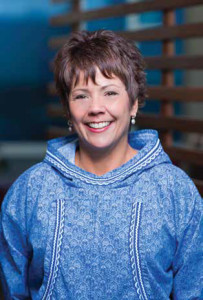 Thank you to all our shareholders who attended any of our recent Information Meetings, held April 15 in Anchorage, April 22 in Kenai, Alaska, and May 6 in Washington State. I always enjoy meeting with our shareholders and their families, hearing about what's going on in your lives and your ideas for how to continue to make CIRI a successful company.
Information Meeting attendees had an opportunity to visit with and hear speeches from candidates for the CIRI Board of Directors. In addition to those duties set forth under Alaska law and CIRI's By-Laws, CIRI's Board of Directors is responsible for initiating and developing the policies that further the goals of the company — policies that help CIRI achieve its vision of working toward a future where Alaska Native people thrive.
Part of that vision is helping young people succeed in school. CIRI is proud to support United Way of Anchorage's 90% by 2020 Partnership, which brings individuals, businesses and organizations together to work with schools and families to find solutions to the issues that undermine student performance. Over the past decade, thanks in part to a groundswell of community support for our youth, Anchorage high school graduation rates have increased from 59 percent to 80 percent.
Both local and national statistics demonstrate the power of a high school diploma when it comes to an individual's health, income and opportunities for success. In addition to the focus on producing more graduates, 90% by 2020 is looking at graduates' preparation for postsecondary education and career opportunities and the impact those trends have on our workforce. The national high school graduation rate is at an all-time high, but one in five students still fails to earn a diploma on time. Increasing the national high school graduation rate to 90 percent would benefit us all by creating new jobs, boosting gross domestic product and increasing annual earnings, spending and federal tax revenue. To this end, I invite full- and part-time degree-seeking shareholders and descendants, as well as individuals pursuing vocational education, to read about education funding available through The CIRI Foundation on page 08.
CIRI understands the road to graduation starts early. Children acquire new skills and knowledge rapidly during the elementary school years. According to a 2016 report by the U.S. News and World Report, average annual learning gains for children in grades K-2 are dramatically greater than those for subsequent years of school. Moreover, the outcomes of early elementary education, particularly whether or not a child can read proficiently by third grade, are a powerful predictor of later school and life success.
Thus, for seven years now, CIRI has partnered with Muldoon Elementary School in Anchorage — funding field trips and other activities, providing rewards for academic competitions, feeding students weekly through the Children's Lunchbox program and honoring its 60-member staff with an Appreciation Week every May. Last month, CIRI received the Anchorage School Business Partnerships "Spirit of Tomorrow" award, which recognizes a school and business that have developed a strong relationship for the benefit of students. We were honored to receive the award and look forward to continuing and strengthening this partnership.
To directly encourage CIRI youth to attend and excel at school, CIRI provides educational incentives for CIRI shareholders and confirmed descendants in grades 7-12. Youth who maintain a grade point average of 3.5 or above and/or students with perfect attendance are eligible for twice-yearly $100 cash prize drawings. For contest rules, see page 03.
As the class of 2017 prepares to graduate, I would like to extend my heartfelt congratulations! Please join me in honoring our graduates by sharing your messages of support and pride. Grab your colleagues, family and friends, take a picture and post it to social media usinghashtags such as #GRADUATION or #CLASSOF2017. Anchorage residents can use United Way of Anchorage's 90% by 2020 hashtag #2017ANCGRADS.
I wish you all a warm and wonderful spring, and I hope to see you at the Annual Meeting of Shareholders June 3 in Anchorage.