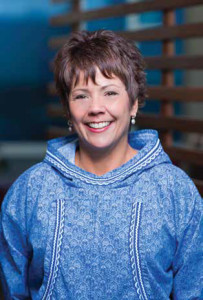 It's hard to believe summer is winding down already! In Alaska, shorter, cooler days herald the arrival of fall and all it entails – back to school, silver salmon fishing, berry picking, bonfires, and those last-minute camping and hiking trips. Next month, I am excited that several CIRI employees will participate in the American Heart Association's Heart Walk, an annual event that raises funds to help fight heart disease and stroke. I invite anyone reading this newsletter to get involved, either as a walker, donor or volunteer. The Heart Walk will be held Saturday, Sept. 23 in Anchorage. For more information, visit www.heartwalk.org.
We're excited to feature two of CIRI's very own employees in this month's Shareholder Spotlight feature – Lydia Thorne and Lucy Untiet, both of whom work in the Shareholder Relations department. The Shareholders Relations department serves as the point of contact for shareholders and assists shareholders with the conduct of their CIRI-related business. In managing and maintaining shareholder records, the department strives to provide the highest quality of service, following CIRI's value of "Respect for Shareholders and Descendants."
Among other things, Shareholder Relations' services include:
Assisting shareholders with address, name and direct deposit changes, and completing CIRI Stock Wills;
Managing shareholder payments;
Administering stock transfer processes (including estate settlements and stock gifting); and
Registering CIRI descendants.
Shareholder Relations staff also field shareholder questions and provide contact information for the CIRI-affiliated nonprofit organizations that provide housing, health care, social services, and educational scholarships and grants.
CIRI understands that a growing number of new shareholders and descendants will define the future of our corporation. New tools allow us to improve our engagement with these individuals, and expanding services for shareholders remains a top priority. Last fall, our Shareholder Relations department was pleased to unveil Qenek, an online portal that allows shareholders to access and print their financial history, update contact information and print tax forms. Youth programs – such as an annual art contest, Take the Next Generation to Work Day, Shareholder Participation Committee youth representative positions and educational incentives – encourage young shareholders and descendants to become involved with the corporation, connect with their Alaska Native heritage and excel in school.
As our children head back to school, it's important to remember that parent or guardian involvement is the No. 1 predictor of academic success. A report by the Southwest Educational Development Laboratory found that students with involved parents, no matter their income or background, are more likely to:
Earn higher grades and test scores, and enroll in higher-level programs;
Be promoted, pass their classes and earn credits;
Attend school regularly;
Have better social skills, show improved behavior and adapt well to school; and
Graduate and go on to post-secondary education.
While all forms of parent involvement are helpful, home-learning activities, such as helping with homework, produce the longest lasting academic gains. For more information, visit www.centerforpubliceducation.org.
I wish you all a wonderful start to your fall!
Warm regards,
Sophie Minich