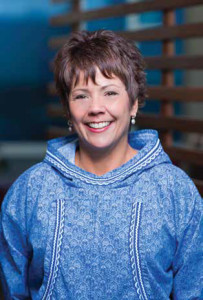 CIRI's nearly 8,900 shareholders are an impressive group. With the annual Alaska Federation of Natives (AFN) being held this month in Anchorage, it got me thinking about how well CIRI is represented at the convention each year. Four CIRI shareholders serve on the AFN board of directors, including CIRI shareholder and company executive Greg Razo, and CIRI shareholders have long served as keynote speakers and presenters. We are proud to count among our shareholders and descendants many past AFN award recipients, such as Carl Marrs (2001), Donald Standifer Sr. (2004), Hazel Felton (2005), Robert Singyke (2006), Sophia Chase (2007), Eleanor Wilde (2008), Clare Swan and John Dilts (2009), Loretta Throop (2011), Charles Akers and Shari Huhndorf (2013) and Aaron Leggett (2014).
Another shareholder, former CIRI president and CEO and current CIRI Director Roy Huhndorf, received the Dr. Walter Soboleff "Warrior of Lights" award at this year's convention, which recognizes individuals who uplift, enrich and unify Alaska Native people.
Roy has dedicated his life to increasing the prosperity of Alaska Native people; through his leadership, he has helped create institutions that will benefit them for generations to come. At CIRI, he was instrumental in settling the complexities of CIRI's land entitlements in such a way that it created the foundation for a thriving corporation that has distributed more than $1 billion to shareholders. But Roy knew that bettering the lives of shareholders went beyond dividends, so he also helped create nonprofit organizations that deliver educational scholarships, health care, social services, housing and cultural enrichment programs.
In addition to many years on the CIRI Board of Directors, Roy currently serves on the board of Southcentral Foundation, which provides medical services to approximately 60,000 Alaska Native and American Indian people in Alaska. Previously, he served as co-chair of AFN and as a director with the Alaska Native Foundation, Alaska Native Heritage Center, Alaska Native Justice Center, Cook Inlet Tribal Council, Koahnic Broadcast Corporation, United Way of Anchorage and the University of Alaska Board of Regents, among others.
Roy is that rare individual who combines visionary thinking with sharp intellect and a big heart to improve the lives of Alaska Native people. The leadership he provided and the decisions he helped guide changed thousands of lives for the better, and future generations will continue to benefit from his contributions. Congratulations, Roy, on your well-deserved honor!
Our young shareholders are making a positive impact as well. Last month's newsletter featured Adam Leggett and Raina Thiele, both of whom received 40 Under 40 awards from the National Center for American Indian Enterprise Development. This award recognizes young Alaska Native and American Indian people for their leadership, initiative and dedication, business accomplishments and volunteer service.
For their contributions to Alaska Native culture, heritage and the community, each year CIRI bestows its Shareholder and Descendant Awards upon three deserving individuals. This year's award recipients are:
Richard "Greg" Encelewski, Ninilchik, Alaska
Shareholder of the Year
Gemma Gaudio, Anchorage, Alaska
Elder of the Year
Julianne Wilson, Kenai, Alaska
Youth Recognition Award
Awards are presented at the CIRI and The CIRI Foundation Friendship Potlatches. Readers will be able to learn more about each recipient in next month's Raven's Circle newsletter.
It is an honor to serve and work with such an impressive group of shareholders and descendants. Thank you for your contributions, insight and inspiration. Working together, we will achieve a future where Alaska Native people thrive.
Warm regards,
Sophie Minich