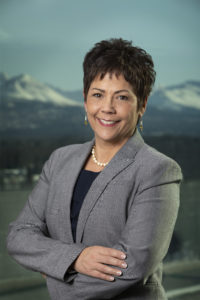 It's a busy time here at CIRI! Preparations are currently underway for our Information Meeting, which will be pre-recorded and made available in May, and for the Annual Meeting of Shareholders, which will be held via virtual meeting webcast on Saturday, June 4. Although I will miss our in-person interactions, I look forward to sharing with you the financial performance of our company, introducing you to our Board-recommended slate of candidates, and highlighting some of the upcoming programs and opportunities available to you, our Shareholders and Descendants.
Based on responses gathered from last year's Shareholder and Descendant survey, we know how important Shareholder and Descendant programs are to you. We are currently in the process of improving offerings so they better align with CIRI's vision and address the evolving needs of our people at all life stages.
Survey results showed that our Shareholders and Descendants desire a deeper understanding of their Indigenous heritage, as well as a greater connection with the broader Alaska Native community. We understand that those living outside Alaska may face barriers to accessing the benefits and services our in-state Shareholders and Descendants enjoy, and that those who have acquired their shares through gifting or inheritance may not feel the same connection with their corporation as original CIRI enrollees.
Please know that your thoughts and opinions matter to us and your voice has been heard!  Whether you have been with us since the very beginning (thank you!) or are a newly registered Descendant (welcome!), your corporation endeavors to embrace all cultures, embody a culture of celebration, and support and create cultural bridges. By doing this, we connect with our culture, heritage and traditions—and each other.
CIRI is infusing our culture into our current program offerings, including the Summer Internship Program, Virtual Mentoring Program and Next Gen Day. Later this year, CIRI will recruit for a new Shareholder and Descendant Programs Advisory Committee, which will be an excellent opportunity for young Shareholders and Descendants to provide direct feedback to CIRI on the programs and opportunities that are important to them. Please stay tuned and look for more information as it becomes available.
This is an exciting time for our corporation. As we celebrate our remarkable history over the last 50 years, we are also creating a roadmap for the future. Our Shareholder and Descendant programs are an important part of the journey. Thank you for lending your vision, and your voice, to the next 50 years.
Sophie Minich
CIRI President and CEO