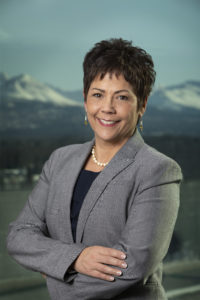 Thank you for being a part of CIRI's 50th anniversary!
On June 8, CIRI celebrated 50 years of culture and heritage, success and setbacks, adaptation and ingenuity. We have dreamed big dreams, navigated challenges and achieved goals. We have not only set aside our differences but embraced them, recognizing that creating a sustainable, healthy and inclusive future depends on fresh ideas and diverse perspectives. At the same time, our stakeholders have remained united in CIRI's mission of promoting the economic and social well-being and Alaska Native heritage of our Shareholders and Descendants.
While CIRI's 50th anniversary is a time to celebrate and look ahead, it also gives us the opportunity to pause and contemplate—what will the future hold, and how do we intend to shape it? Reflection enables us to evaluate the past authentically while empowering us to design a course of action that will push us forward.
Fifty years ago, my family was living in Wyoming and my mother took my siblings and me down to the bank so we could each open savings accounts. I was a young child and didn't understand, but knew I had this little passbook savings account, and my savings were growing—a gift from my mother that would keep giving, even after she was gone.
My mother passed away when I was 13, just as her mother had passed away when she was 13. During my childhood, my mother did not discuss or express pride in her Gwich'in Athabascan heritage. As an employee and a Shareholder of CIRI, I am so grateful for what CIRI and other Alaska Native corporations have done to instill pride in their Shareholders and Descendants and their families; preserve and perpetuate Alaska Native culture and heritage; and support current and future generations through corporate growth, dividend payments, job creation, and other social and cultural services.
While the Alaska Native Claims Settlement Act laid the groundwork for CIRI by providing land and seed capital, the success of our corporation was born out of the highest degree of cooperation among many. I began working at CIRI in 1993, and nearly 30 years later, I still find my work rewarding and feel incredibly blessed and honored to work on behalf of CIRI Shareholders and Descendants in the fulfillment of our mission. On the business side, we will continue to take what we've learned from the past and carry it forward—the value of excellent partners, maintaining diversity in our portfolio, taking calculated risks and adapting to change.
As part of CIRI's 50th anniversary celebration, we recently unveiled our New Vision, one that will guide the corporation's actions in the future. CIRI's New Vision, or desired future state, is that Our Stakeholders Thrive. CIRI works with a diverse group of stakeholders, including our Shareholders and Descendants, a family of tribally designated organizations and community nonprofits, employees, business partners and beyond.
Achieving our New Vision requires the engagement of CIRI's next generation of Shareholders and Descendants. Over the next 50 years, we're going to learn things and discover things and perhaps do things that we might have otherwise not thought of thanks to their talent, resourcefulness and insight. Rolling out the content, programs and services to engage the next generation will be a challenge for CIRI, but it's one we're excited about and eager to take on.
Thank you for 50 years of CIRI. We are grateful for what we have achieved, and we look forward to what the future holds.
Warm regards,
Sophie Minich
CIRI President and CEO