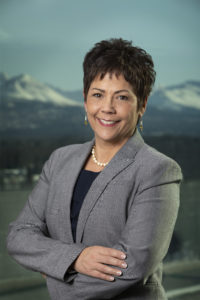 It's hard to believe we are more than halfway through 2022. Here in the Cook Inlet region, the leaves have already begun to turn, the sun is setting earlier, and Alaskans are filling their freezers with silver salmon, lowbush cranberries and other wild foods.
2022 has been a challenging year for well-managed businesses throughout Alaska and across our nation. While we cannot know for certain how the U.S. and global economies will ultimately affect CIRI and its investments, the corporation is projecting substantially less net income this year, compared to what was initially budgeted for 2022 or the gains seen in 2021.
CIRI's outstanding performance in 2021 came at the height of an impressive market cycle, and we are now facing significant headwinds from increasing interest rates, inflation, geopolitical tensions and supply chain challenges. CIRI is expecting its marketable securities segment to see unrealized losses that are the result of the current downward trend in the markets. Revenue from CIRI's other segments of the corporation's diverse portfolio will protect the company from significant losses, though net revenue will be substantially lower than 2021's results.
Due to supply chain challenges and rising labor costs, CIRI's Government Services segment is also sensitive to projection uncertainty.
Economists predict a looming recession, with inflation curbing Americans' ability to spend and the Federal Reserve rapidly pushing up borrowing costs. Recent reports have shown falling consumer confidence, a slowing housing market, jobless claims rising and the first contraction in business activity since 2020.
It is impossible to say when the economy will stabilize, and CIRI is not immune to the recessionary environment, budget uncertainty, and the operating restrictions and supply issues caused by the ongoing COVID-19 pandemic.
CIRI prides itself on a well-diversified portfolio of business operations and investments. And history shows that stock prices can fluctuate widely over the short term, with the underlying value of solid business assets realized over longer periods. Through investments in credit funds and private companies, CIRI's private equity portfolio has some insulation from the broad impacts of the public markets.
Setting aside the impact of the market conditions in both marketable securities and private equities, CIRI is forecasting to slightly exceed original budget across remaining segments. Even in this time of uncertainty, your corporation continues to seek solid investments that are innovative and produce value for our Shareholders, and we are well positioned to weather the 2022 market downturn through a healthy balance sheet and strong liquidity.
Much can change between now and the end of the year, and complete financial performance information will be fully understood in the first quarter of 2023.
Warm regards,
Sophie Minich
CIRI President and CEO