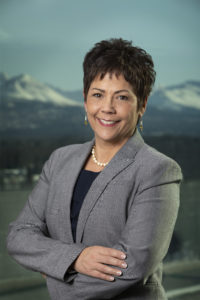 Welcome to the newly redesigned Raven's Circle! We hope you enjoy the eye-catching design, improved readability and refreshed content.
Based on responses from last year's shareholder and descendant survey, we know the Raven's Circle plays an integral role in how you get your CIRI news. It also serves to connect you with Alaska Native culture and heritage; deepen your understanding of and connection with CIRI; and convey information about the services, benefits and resources available to you as a CIRI shareholder or descendant.
Whether you are an original CIRI enrollee or newly enrolled descendant—whether you live in Alaska or elsewhere—you are an important part of the CIRI family. Your experiences, ideas and worldview are unique and part of CIRI's diversity. It is this diversity that inspires innovation and creativity, which ultimately makes us a stronger company that is better able to serve our shareholders and descendants.
This year we celebrate CIRI's 50th anniversary. Looking ahead, I see a bright future for our corporation, with our Board and employees, shareholders and descendants, villages and tribes, and socially driven enterprises and tribally designated organizations collectively ensuring that CIRI is thriving and relevant for all our stakeholders. When people and organizations work together, we all win.
Thank you for your commitment to staying engaged and informed. As we look to the future, I hope you will take a moment to think how you can personally connect with CIRI. Whether it's reading this newsletter, tuning into our upcoming Information Meeting or Annual Meeting of Shareholders, following us on social media or emailing the CIRI Board ([email protected]) with any thoughts or questions you might have, the involvement of our shareholders and descendants is fundamental to the continued success of our corporation.
I look forward to celebrating our company's 50th anniversary with you in the months ahead!
Warm regards,
Sophie Minich
CIRI President and CEO