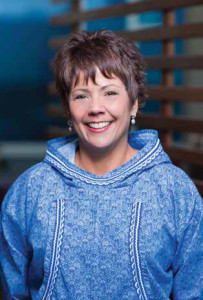 Season's greetings! As we celebrate the holidays, may you experience the warmth of family, the joy of friends and the promise of the year ahead.
As we reflect upon 2017, I am reminded of CIRI's many successes. Of course, these successes would not be possible without our talented team of employees, the wisdom and guidance of our Board of Directors and the support of our shareholders.
Below are just a few of this year's highlights:
North Wind
In January, CIRI subsidiary North Wind Group announced the acquisition of Portage Inc. and all of its subsidiaries. Already successful, the acquisition made North Wind one of the most robust and capable small businesses in the federal market. The recently-combined companies operate in 35 states and three countries and employ more than 1,100 individuals.
Fireweed Business Center
CIRI's corporate headquarters in Anchorage achieved Leadership in Energy and Environmental Design (LEED) Gold certification. It also welcomed new tenants Umialik Insurance Company and Sonosky, Chambers, Sachse, Endreson and Perry, LLP, a law firm. With the addition of its new tenants, the Fireweed Business Center stands at 75 percent occupied. Meanwhile, CIRI's former headquarters at 2525 C Street continues to be a premier midtown Anchorage property and remains a strong asset in CIRI's real estate portfolio.
Fire Island Wind
September marked the five-year anniversary of the Fire Island Wind Project, which delivers clean, renewable energy to Anchorage homes and beyond. The project has been recognized by General Electric Company as one of the top four wind energy projects in the country.
Granite
The Granite software developed by CIRI to manage its shareholder records was updated to allow it to be adopted by not just other Alaska Native regional corporations, but by village corporations as well. A simplified, cloud-based version of Granite was made available for purchase by Alaska Native village corporations in late 2016. To date, two Alaska Native regional corporations and eight village corporations have purchased the software, including Ninilchik Natives Association Inc. and Seldovia Native Association Inc., two of the ANCSA-certified villages in the Cook Inlet region.
Makahu'ena Estates
The Makahu'ena Estates project team completed major construction and is now working with the County of Kaua'i to obtain subdivision approval. In September, I joined several local honored guests and neighbors, along with CIRI Real Estate Vice President Chad Nugent, for a traditional Hawaiian dedication and blessing.
Alaska Native Hire
The revamped AlaskaNativeHire.com, an online employment solution, was rolled out in October. The easy-to-use website connects CIRI shareholders and descendants and other Alaska Native people with the companies looking to hire them.
Other highlights included:
Major contract wins for CIRI subsidiaries Silver Mountain Construction and Weldin Construction;
Celebrating the 35th anniversary of The CIRI Foundation;
The CIRI Golf Classic raising $151,000 for youth and education organizations;
Placing five young shareholders and descendants in temporary positions through the CIRI Summer Internship Program; and
Hosting U.S. Secretary of the Interior Ryan Zinke and the Alaska congressional delegation.
It has, indeed, been an exciting year for CIRI. As we prepare for the new year to unfold, we look forward to many new and exciting developments, as well as more opportunities to get together and share in our Alaska Native heritage. I wish each of you a happy and healthy holiday season.
Warm regards,
Sophie Minich