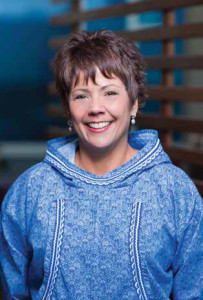 Happy New Year! As we welcome 2018, I wish all our readers many blessings, health and prosperity.
The New Year is when we strategize our path for the next 365 days and focus on the future. Here at CIRI, that means not only determining how to best deliver strong, consistent and sustainable dividends to our shareholders, but developing new and exciting opportunities that enable our shareholders and their descendants to advance in their careers and lives.
To be held this spring, the 2018 CIRI Job and Resource Fair will see the development of new efforts to increase shareholder employment, including an opportunity for shareholders to promote their own businesses. In addition, the recently-relaunched AlaskaNativeHire.com provides custom tools to help Alaska Native job seekers land the perfect job.
In 2015, CIRI significantly expanded its summer internship program, which creates opportunities for students and recent graduates to directly apply their education in a practical work setting while gaining excellent experience and insight into CIRI's culture and businesses. I encourage young shareholders and confirmed descendants to find out more at www.ciri.com/internship.
An exciting new youth program, the CIRI C3 Experience will debut this summer. This three-day, two-night camp brings together young CIRI shareholders and descendants to foster leadership skills, help prepare them for college and careers, and deepen their understanding of their Alaska Native heritage. All costs for qualified participants will be covered by CIRI. The inaugural camp will be held Aug. 13-15, and the deadline to apply is March 15. For more information and an application, visit www.ciri.com/C3.
As part of CIRI's dedication to preserving the history, methodologies, skills and traditions ingrained in Alaska Native art, the company supports its shareholder and descendant artists in a variety of ways:
CIRI's Alaska Native Artist Directory provides an online space for shareholder and descendant artists to connect free of charge with potential customers, including other shareholders and descendants and members of the general public. View the directory or apply to have your information included at www.ciri. com/artistdirectory.
CIRI provides tables and gives Alaska Native artists the opportunity to sell their handmade crafts in the first-floor lobby of CIRI's Fireweed Business Center from 11:30 a.m. to 1:30 p.m. every Tuesday and Thursday. Artists may call (907) 274-8638 to learn more or schedule a table.
The Alaska State Council on the Arts, in partnership with The CIRI Foundation, developed an Alaska Native Artist Resource Workbook to assist Alaska Native artists in furthering their artistic careers. Download the workbook and view a list of additional artist resources at www.thecirifoundation.org/project-grants/resources-for-artists.
CIRI's annual Holiday Craft Bazaar gives shareholders and confirmed descendants an opportunity to sell their arts and crafts to the public. The event, which began in 2014, continues to grow each year, with 2017 boasting a record number of vendors and attendees.
A number of youth programs – such as an annual art contest, Take the Next Generation to Work Day, Shareholder Participation Committee youth representative positions, youth voting and educational incentives – encourage young shareholders and descendants to become involved with the corporation, connect with their Alaska Native heritage and excel in school. Visit www.ciri.com/youth for details.
I'm proud of the opportunities we are able to offer to our shareholders and descendants. Along with CIRI's strong dividends, these programs will help to keep shareholders engaged and committed to the future success of our corporation. As always, you can find the most up-to-date program information at ciri.com and via CIRI's social media channels. If you don't already, I encourage you to follow us on Facebook, Instagram and Twitter.
Warm regards,
Sophie Minich