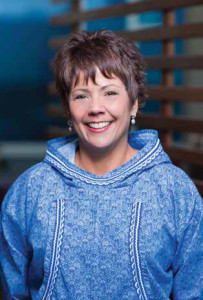 We made it through another winter, and spring is just around the corner! Here at CIRI, that means we start gearing up for the annual series of shareholder Information Meetings, to be held April 21 in Kenai, Alaska; April 28 in Anchorage, Alaska; and May 12 in Puyallup, Wash. (This year's Annual Meeting will be held June 2 in Soldotna, Alaska. More information will be made available as the date draws closer.)
Information Meetings give us the opportunity to review and reflect on the previous year's financial performance. In 2017, thanks to a combination of new investments and our existing business portfolio, we achieved $1 billion in gross assets and grew shareholders' equity. These results will be presented in more detail at the Information Meetings and in the 2017 CIRI Annual Report that will be mailed to shareholders next month.
One of my favorite aspects of the Information Meetings is the sense of community that occurs when shareholders gather together – not only to learn more about CIRI's business operations, but to reminisce with old friends, become acquainted with new ones, and share food and stories.
This sense of community extends to finding ways to give back, not only to our shareholders, descendants and their families, but to the broader Alaska Native community and society at large. To this end, CIRI is proud to offer programs and events like the annual CIRI Job and Resource Fair, Summer Internship Program and Alaska Native artist opportunities, and we are equally proud of our close affiliation with our family of nonprofit organizations.
Additionally, CIRI is committed to supporting organizations that fight hunger, poverty and homelessness, and support education. The company recently aided the fundraising efforts of the Alaska SeaLife Center, American Heart Association, Bean's Café/The Children's Lunchbox, Covenant House and Muldoon Elementary School. Since it began in 1983, the CIRI Golf Classic has raised more than $1.9 million for local nonprofit organizations. And over the years, CIRI and its employees have invested nearly $2 million in the Southcentral Alaska community through ongoing support to United Way of Anchorage.
It's important to remember that community service begins with each and every one of us. CIRI gives its employees two hours of paid time off per month to volunteer at the nonprofit of their choice. Additionally, employees from CIRI volunteer one morning per month at The Children's Lunchbox, which provides free meals for students in seven Anchorage Title 1 elementary schools and sends those students home with a bag of food items to get them through each weekend.
As we enter the season of park and trail clean-ups, charity walks and golf tournaments, if you're not already doing so, I invite you to find a way to give back to your community. It can be as simple as taking your vehicle through a car-wash fundraiser, giving blood or taking clothes you no longer need to Goodwill. Longer-term commitments include mentoring youth, becoming an adult literacy volunteer or serving as a senior companion.
If you're looking for a volunteer opportunity and aren't sure where to start, check with local charities or your local United Way organization. Those who live in Anchorage can find information on a variety of volunteer opportunities at www.liveunitedanc.org. Find an opportunity that aligns with your passions, and then get out there and give back!
Warm regards,
Sophie Minich