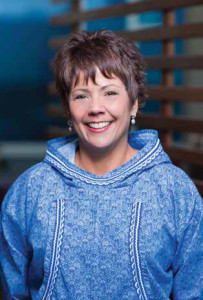 By the time you're reading this newsletter, you should have just received, or will be receiving soon, your copy of the CIRI 2017 Annual Report. The theme, "Pride and Prosperity," reflects the pride shareholders have in their Alaska Native heritage, as well as how the company's investment strategy helped it deliver the strongest financial performance in a decade.
Featured throughout the report are former and current members of the CIRI Shareholder Participation Committees (SPCs). Over the years, the SPCs have addressed a range of matters, from ways to increase and enhance shareholder and descendant outreach and opportunities, to the establishment of an Elders' Settlement Trust. They have also raised funds to help purchase a washer and dryer for a Cook Inlet Housing Elder facility in Anchorage; solicited money and raised membership awareness for the Alaska Native Heritage Center; and initiated a book drive focused on Alaska Native cultural themes for the Chief Leschi School in Puyallup, Wash., where CIRI holds a number of events, including the Northwest Potlatch, which became an annual event at the behest of shareholders who raised the possibility with SPC members. To date, six former SPC members have gone on to serve on the CIRI Board of Directors.
Not only is serving on the SPCs a way to learn more about CIRI, but members often gain deeper insight into the services and opportunities available through CIRI's affiliated non-profit organizations. For shareholders and CIRI youth who are interested, the SPCs are a great way to get more involved with the company. I invite you to find out more at www.ciri.com/SPC.
CIRI experienced many successes in 2017. Highlights include the acquisition of Portage Inc. and all its subsidiaries by CIRI subsidiary North Wind Group; major contract wins for CIRI subsidiaries Silver Mountain Construction and Weldin Construction; refinancing one of the Arizona multifamily properties CIRI owns in partnership with Dean Weidner; and the company's investment securities and private equities segments each delivering their best performance of three improving years.
Despite CIRI's strong performance in 2017, it's important to remember that the Alaska and Anchorage economies are still in a recession. According to a recent report by the Anchorage Economic Development Corp., the Anchorage economy has lost approximately 5,000 jobs since 2015, and unemployment in Anchorage has trended upward as the national rate has trended downward – Anchorage and Alaska are at 7- and 4-year highs, respectively, while the national rate is at a 17-year low. Although we believe CIRI's diversified portfolio of businesses and investment assets will continue to provide a solid foundation for growth going forward, the favorable commodities market and regulatory tailwinds are unlikely to continue as forcefully during the coming year.
CIRI's dividend policy dictates that 3.5 percent of total shareholders' equity is paid out to shareholders in dividends. Based on that calculation, I'm pleased to report that CIRI shareholders will see an increase in dividends in 2018, with the company expecting to pay dividends totaling $23.4 million, or $37.28 per share, up from $35.69 per share in 2017. In total, that's an additional $1 million paid to CIRI shareholders.
I'm looking forward to meeting with shareholders to celebrate our 2017 accomplishments and discuss ways that CIRI can better meet the needs of our shareholders. Please join me at one of our Information Meetings, to be held April 21 in Kenai, April 28 in Anchorage and May 12 in Puyallup, Wash. Our 2018 Annual Meeting of Shareholders will be held June 2 in Soldotna, Alaska. I hope to see you there!
Warm regards,
Sophie Minich