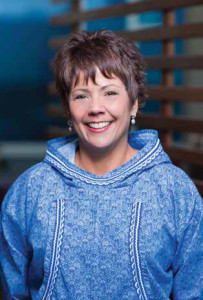 It's difficult to believe that summer is winding down already. In Southcentral Alaska, the leaves are starting to change, the fireweed is at the tip of its stalk and flocks of Canada geese are flying south for the winter. It's also the time of year we start gearing up for back to school.
CIRI understands the importance of education. As a corporation, we have long supported United Way of Anchorage's 90% by 2020 Partnership, which brings individuals, businesses and organizations together to work with schools and families to find solutions to the issues that undermine student performance. Over the past decade, thanks in part to a groundswell of community support for our youth, Anchorage high-school graduation rates have increased from 59 percent to 81.4 percent.
However, nationally, we're still in a situation where a quarter of freshman high-school students fail to graduate on time. And in Alaska, only 55 percent of Alaska Native students graduate in four years.
Education imparts self-esteem, confidence and pride; it provides a path to long-term career opportunities and keeps America competitive. There is a clear business case for tackling the education crisis, which is why education is fast becoming a front-and-center issue for corporations like CIRI.
CIRI is proud to support causes such as the 90% by 2020 Partnership, Alaska Native Science and Engineering Program and Anchorage School District's School Business Partnership Program. Additionally, CIRI is on the frontlines with innovative programs and opportunities of its own that encourage young shareholders and descendants to become involved with the corporation, connect with their Alaska Native heritage and excel in school. These include an annual Youth Art Contest, educational incentives, Shareholder Participation Committee Youth Representative positions and Take the Next Generation to Work Day.
This month, we are excited to host the inaugural CIRI C3 Experience camp, a three-day, two-night camp that will focus on culture, college prep and careers. Fifteen shareholders and descendants ages 15 to 19 will hear from Alaska Native professionals and engage in collaborative exercises to hone their skills to successfully apply for college, draft the perfect essay, improve their public-speaking skills, learn about internship opportunities at Alaska Native organizations and create a professional resume. We had an impressive array of applicants from across the U.S. Look for a recap and photo spread in next month's Raven's Circle!
All of us can help encourage young people in their academic endeavors. If you are an educator or work in a school, thank you for all you do! If you are a parent or guardian, studies have shown that home-learning activities, such as reading and helping with homework, produce the longest-lasting academic gains. If you are an adult looking for a volunteer opportunity, consider youth-serving organizations like Big Brothers Big Sisters, Boys and Girls Clubs, Covenant House, Junior Achievement or Scouts.
According to the nonprofit Education Week, if the U.S. achieves a 90 percent high-school graduation rate, almost 300,000 more high-school seniors each year will get the best possible shot at success – higher incomes, better health and longer life expectancy. As a nation, we will see a return on this investment in the form of higher employment and tax revenues, reduced costs for social services and prisons, and greater voter turnout.
Working together, we can make this vision a reality.
Warm regards,
Sophie Minich