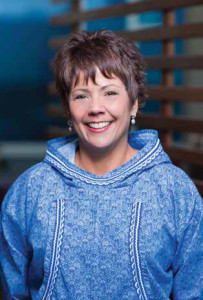 Potlatch season is just around the corner! It is one of my favorite times of year as it gives us an opportunity to reflect on the many things in our lives we are fortunate to have – family, friends and the time we spend together.
The traditions we share at the CIRI and The CIRI Foundation Friendship Potlatches are similar to those that have served Alaskans for thousands of years – to celebrate life and help families and communities heal from their losses. While the Friendship Potlatches have evolved over the years to reflect the realities of our time and the diverse heritage of CIRI shareholders, the core values remain as relevant today as at any time in our history. Through traditions like the Athabascan memorial cloth ceremony, sharing traditional foods and cultural performances, we celebrate friendship, unity and cooperation.
We also present the CIRI Shareholder, Elder and Youth awards, and provide an opportunity for guests to mingle with CIRI Directors, staff and representatives from CIRI-affiliated nonprofit organizations, and to learn about the many programs and benefits available, including scholarship and grant opportunities.
Friendship Potlatches are held each fall in the areas with the highest concentrations of CIRI shareholders. 2018 dates and locations will be Saturday, Oct. 13 in Kenai; Sunday, Oct. 21 in Anchorage; and Saturday, Nov. 3 in Puyallup, Wash. If your schedule allows, please join us! And please remember to let Shareholder Relations know you are coming so we can ensure there is enough food for everyone.
Next month, some 6,000 delegates, participants, observers, vendors and visitors will attend the 51st annual Alaska Federation of Natives (AFN) Convention, to be held Oct. 18-20 in Anchorage. This year's theme, "Innovation in the Past, Present and Future," reflects the innate qualities of resourcefulness and resilience that Alaska Native people have relied on for thousands of years. These same qualities will carry us forward as we work to preserve our lands, language and culture; promote job growth and workforce development; address high rates of child and domestic violence, substance abuse, homelessness and suicide; and educate and empower the next generation of Alaska Native leaders.
AFN is the largest statewide Native organization in Alaska. Its membership includes 185 federally recognized tribes, 177 village corporations, 12 regional corporations and 12 regional nonprofit and tribal consortiums. Its mission is to enhance and promote the cultural, economic and political voice of the entire Alaska Native community. CIRI shareholder Greg Razo (Yup'ik), vice president, CIRI Government Relations, serves as director of AFN, co-chair of the AFN executive governance committee and chair of the AFN resolutions committee, and is a member of AFN's budget and legislative and litigation committees.
At this year's Convention, attendees will discuss key issues, share information and set the future course for AFN. CIRI is proud to not only be a Class A member of AFN, but to underwrite funding for the First Alaskans Elders and Youth Conference that precedes the AFN Convention every year.
I look forward to seeing many of you next month, either at the Friendship Potlatches, AFN Convention or both!
Warm regards,
Sophie Minich