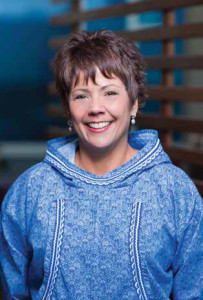 It's November, and the holidays are nearly upon us! Whatever our cultural and religious traditions, this is a time to celebrate with good food, family and friends, to count our blessings and think about how we may be of service to those less fortunate.
As a for-profit corporation, CIRI's obligation is to our shareholders – a strong, prosperous company that delivers meaningful and sustaining benefits to its owners is our overarching objective. At the same time, CIRI takes its corporate social responsibilities seriously.
Our staff, directors and shareholders take great pride in the company's reputation as an outstanding corporate citizen. CIRI encourages its employees to share their time and talents with charitable nonprofit organizations, and the company directly supports a wide variety of nonprofit cultural and social-service organizations that benefit the community. The CIRI family of nonprofit organizations improves the quality of life for shareholders, descendants and other Alaska Native and American Indian people in the Cook Inlet region, providing needed services and education programs that reflect traditional Alaska Native values and help to strengthen families and communities.
CIRI's success is linked to the health of our community; we recognize we must do our part to help organizations that work to meet the growing needs of society. To that end, CIRI supports various charitable organizations and participates in a variety of fundraising events.
As you will read about in this month's "CIRI in the Community" feature, CIRI employees are stepping up to the community-service and philanthropy plate in new and exciting ways. The company recently rolled out YourCause, an online tool that tracks volunteer hours and individual giving. I am pleased to report that in October alone, employees volunteered at 25 different organizations and donated more than 210 hours of their time. Additionally, CIRI recently supported the following nonprofits' fall fundraising efforts: Alaska Native Justice Center, Abused Women's Aid in Crisis (AWAIC), Camp Fire Alaska, Covenant House Alaska, Koahnic Broadcast Corporation and YWCA Alaska. CIRI is also a funding partner of the Path to Independence program, which seeks to quickly house individuals and families experiencing homelessness and help them remain housed permanently.
This holiday season, I invite you to think about the causes close to your heart and consider how you might make a difference:
Donate your time to adult literacy programs, animal shelters, senior centers, soup kitchens or youth-serving organizations.
Give blood.
Donate gently used clothing or household items to Goodwill or the Salvation Army.
Shop businesses that donate a portion of their proceeds to charity.
Support national giving days, such as #GivingTuesday, which occurs each year the Tuesday after Thanksgiving.
See if your employer offers a matching gift program. Many employers, including CIRI, match charitable contributions made by their employees up to a certain dollar amount.
An easy way to give back is to shop locally! Each dollar you spend at locally owned businesses returns three times more money than one spent at a chain, and almost 50 times more than buying from an online mega-retailer. Local businesses create jobs and opportunity in your community. When you invest money in your local economy, you're making your town a better place to live, with a unique character, a prospering economy and a tighter-knit community.
I wish each and every one of our readers a peaceful and joyful holiday season!
Warm regards,
Sophie Minich