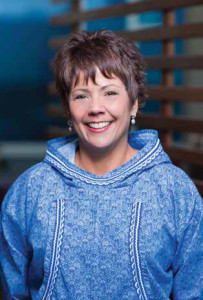 Happy 2019! I love the fresh start of the new year and the opportunities and possibilities it brings. It also provides a chance to reflect on the last 365 days, to celebrate our successes, learn from our mistakes, gain insight and strategize how to best move forward.
I am grateful for CIRI's many accomplishments in 2018. From business ventures to shareholder engagement, the company continued its trajectory of success. Below are a few highlights:
Achieving $1 billion in gross assets
In early 2018, CIRI's asset base reached $1 billion. (Gross assets encompass everything the company owns, including the value of business operations, investments, buildings, real estate and equipment.) Increasing gross assets doesn't directly translate to increasing shareholder dividends, as dividends are calculated based on a percentage CIRI's shareholders' equity. But the company's overall portfolio of assets and businesses helps to grow net income, thereby increasing shareholders' equity and ultimately achieving CIRI's fundamental objective of paying steady and growing dividends to shareholders.
CIRI C3 Experience
The first-ever CIRI C3 Experience was held Aug. 13-15, 2018, in Anchorage and Chugiak, Alaska. With a focus on college prep, careers and culture, the three-day, two-night camp was designed to foster leadership skills in CIRI shareholders and descendants ages 15 to 19, help prepare them for higher education and careers, and teach them about the rich and varied cultural heritage of CIRI's Alaska Native shareholders.
Fire Island Wind achieves record production
In January 2018, the Fire Island Wind Project achieved its best-ever month of production: 7,260 megawatt hours of clean, sustainable wind energy delivered to Anchorage homes and 99 percent availability.
Path to Independence homelessness initiative
CIRI accepted an opportunity to engage as a funding partner for Path to Independence, a network of partners committed to changing the way the Anchorage community views and solves homelessness. The program seeks to quickly house individuals and families experiencing homelessness and help them remain housed permanently. Along with a $200,000 commitment from Weidner Apartment Homes, CIRI joined with the 11 other Alaska Native regional corporations to pledge more than $50,000. I was also pleased to accept a position on the Anchorage Homeless Leadership Council.
Sale of Arizona multi-family property
CIRI sold its 768-unit Phoenix, Ariz., Red Mountain Villas apartment complex to an investor at a healthy return. The strength of the multifamily apartment homes market segment positions CIRI well for growth in its remaining properties, the majority of which were purchased in 2010 and 2011.
Settlement Trust
Thanks to the 2017 Tax Cuts Jobs Act, Alaska Native corporations may now place assets in a settlement trust on an effectively pre-tax basis. The resulting tax savings could help to finance trust benefits, which can include shareholder distributions, including Elders' distributions and other initiatives promoting the health, education and welfare of trust beneficiaries. In 2018, CIRI began exploring the best options to take advantage of the new rules to benefit its shareholders. We plan to provide additional information to shareholders in the coming months.
Other
Additional highlights included:
Placing five young shareholders and descendants in temporary positions through the CIRI Summer Internship Program;
The CIRI Golf Classic raising more than $150,000 for youth and education nonprofits; and
New contracts and industry recognition for CIRI subsidiary North Wind Group.
2018 also brought its share of sadness and challenges:
In September, Jason Moore, senior director, CIRI Corporate Affairs, passed away at the age of 51 after a lengthy illness. He is sorely missed.
On Nov. 30, a magnitude 7.0 earthquake struck Southcentral Alaska. While no deaths or serious injuries occurred as a result of the quake, the building that houses several CIRI-affiliated nonprofits was badly damaged and CIRI was forced to cancel this year's Holiday Craft Bazaar as work crews were busy assessing damage and cleaning up broken glass and other debris at the Fireweed Business Center.
Every end marks a new beginning. Wishing you a 2019 filled with prosperity, good health and happiness.
Warm regards,
Sophie Minich