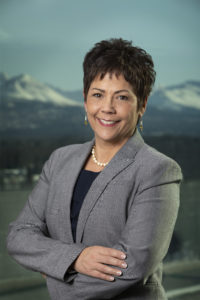 Welcome to the June 2020 Raven's Circle! Thank you for your patience as we transitioned to a digital newsletter this spring. At the start of the COVID-19 pandemic, information was changing so rapidly that it was difficult to keep pace with the news cycle. So instead of sending print newsletters, we opted to provide regular electronic communications to our shareholders to ensure the most accurate and up-to-date information was being shared.
Now that things have settled a bit, we expect to mail paper copies of the Raven's Circle on an every-other-month basis. eNewsletters will be distributed monthly.
If you haven't already done so, I encourage you to sign up for CIRI's eNewsletter Program! eNewsletters are better for the environment, more cost-effective and delivered faster than print newsletters. In 2020, quarterly prize drawings for an iPad or $400 cash are being conducted from the names of shareholders enrolled in CIRI's eNewsletter Program who have valid email and mailing addresses on file. Shareholders may sign up to receive eNewsletters via the Qenek shareholder portal or the CIRI website.
As we move into summer, warmer weather means more time outdoors. Whether you want to engage in subsistence activities, get active and fit, or simply calm your mind and breathe in the fresh air, I invite you to deepen your connection to the environment and appreciate the beauty around you by getting outside.
While recreating, please keep in mind these recommendations from the American Red Cross that will help keep prevent the spread of COVID-19:
Visit parks and recreational areas close to your home.
Avoid areas that are crowded or where you cannot stay at least 6 feet (about two arms' lengths) away from others at all times.
Avoid gathering with people outside of your household.
Prepare before you visit. Check with the park in advance to know which areas or services are open, such as bathroom facilities and concessions, and bring what you need with you.
Practice good hygiene. Wash your hands before you leave your house, bring hand sanitizer with you and refrain from touching your face. After returning home, wash your hands immediately.
Viruses are more likely to spread in a contained environment, like an office or house, rather than outside. However, if you're somewhere like a crowded park and will be within 6 feet of others, a cloth face mask is recommended.
Stay at home if you are sick or not feeling well.
Until a vaccine is developed, no activity will be without risk. However, by taking some simple precautionary measures, we can enjoy the bounty of nature while minimizing risk to ourselves and others.
While our nation grapples with the ongoing COVID-19 pandemic, we also grieve the death of George Floyd, an African American man who was killed by police during an arrest in Minneapolis on May 25.
During this time, our Alaska Native values of dignity, empathy and respect for others are even more important. We recognize that all too often, people of color – including Alaska Native and American Indian peoples – experience both blatant and covert racism. While our nation prides itself on tolerance and diversity, there exist long-standing racial inequities in virtually every aspect of American life.
As people join together to demand more and better for themselves, I remain hopeful that, though painful today, these events will bring about the peace, learning and understanding that is so vitally needed. In the wake of Mr. Floyd's death, we are on the precipice of change. But for real change to occur, we must go beyond diversity and create a culture of equality that offers equal education, opportunity, pay and rights for all.
Warm regards,
Sophie Minich