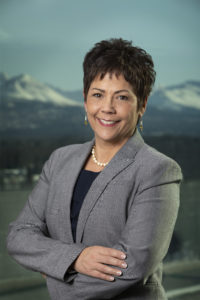 I truly missed seeing our shareholders and their families at this year's Friendship Potlatches. I will also miss seeing many of you at the CIRI Holiday Craft Bazaar, an annual event typically held the first Saturday in December.
With all that is going on in the world, it is vital to connect with one another by celebrating culture and sharing traditions. And with the holiday season quickly approaching, it is even more important to maintain a sense of closeness with those we care about.
While not a substitute for in-person human contact, there are thankfully many ways to stay connected while keeping ourselves, and others, safe. The University of Maryland Medical System has compiled a list of ways to electronically socialize with friends and loved ones without leaving your house:
Facebook: In addition to sharing statuses and commenting on someone's wall or newsfeed, there is Facebook Messaging, which can be between two people or a whole group, allowing for a chat or texting option. Facebook also has a new feature called Watch Party. In this feature, the host can pick out a queue of Facebook videos and line them up for the party. The host invites friends (other friends can join later, too) and they can see and hear each other, as well as comment on the videos.
Facetime: For Apple devices (iPad, iPhone and iPod touch) there is the Facetime option, which allows users to connect with friends and family anywhere in the world.
Google Hangouts: Hangouts is a free smartphone app or Google Chrome Extension, which can be used for messaging or free video or voice calls with one person or a whole group. Unlike Facetime, it can be used on any kind of smartphone and even has fun features like photos, stickers and emojis.
Houseparty: Houseparty is a free video group chat app for smartphones. In addition to chatting face-to-face, you can play interactive games, including Quick Draw, which is like Pictionary. It also boasts screen-sharing capabilities.
Netflix Parties: A fun way to watch Netflix shows and movies with your friends, Netflix Parties is available only through the Chrome browser, but it is free. There is a chat window where group members can comment and chat during the show.
Skype: Another free tool that can be used for video calls, chatting or conference calls, Skype can be used on a computer as an app, through the web, or as a smartphone or tablet app.
Zoom: Traditionally a business meeting tool, Zoom is also useful for conference calls or a video call for some face-to-face time.
Of course, web-based options are not always practical or possible. Computers and mobile devices cost money, and internet connectivity may be unavailable or unreliable, especially in rural Alaska. Chief among those who may lack access to digital technologies are our Elders.
This holiday season and throughout the winter, along with staying connected with your own families and loved ones, I invite you to reach out to an Elder who may be in need. In addition to a friendly phone call or email, they may need help with food and pharmacy needs, rides to the doctor, home maintenance or entertainment.
Cook Inlet Housing Authority, part of the CIRI family of nonprofit organizations, is looking for pen pals to correspond with Elders. If you are interested in this opportunity you can do so from the comfort and safety of your own home. Contact Resident Engagement Coordinator Christine Adams at [email protected].
Warm regards,
Sophie Minich