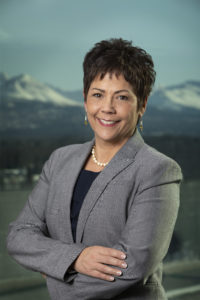 Happy holidays! 2020 hasn't been easy, and our celebrations may look different this year. Please know that I send you warmest wishes for faith, hope, peace and, above all, good health this holiday season. I know we are all looking forward to a new year and new beginnings!
While it's human nature to dwell on the negative and overlook the positive, there are many things I am grateful for; namely, our shareholders and descendants, our team of talented CIRI employees, and the strength and wisdom of our Board. In reflecting upon 2020, a few highlights include:
CIRI's Family of Nonprofit Organizations
Throughout the COVID-19 pandemic, CIRI's family of nonprofits have stepped up in new and exciting ways to provide education, employment, health care, housing and other services to Alaska Native/American Indian (AN/AI) people residing in our region and elsewhere in Alaska. A few examples include Cook Inlet Housing Authority providing affordable housing and working with residents who are struggling to find appropriate, available resources; Cook Inlet Tribal Council's Fabrication Laboratory providing personal protective equipment to health care workers; and Southcentral Foundation offering telehealth visits, which allow customer-owners to see their health care providers from the comfort and safety of home.
North Wind Group
CIRI subsidiary North Wind Group continued its trajectory of success, winning important long-term contracts in the federal environmental services market, achieving project-performance and safety milestones, and earning industry awards and recognition. Based in Idaho Falls, Idaho, North Wind Group oversees several companies primarily focused on environmental, engineering, construction and technical-consulting services.
U.S. Census
The U.S. Census Bureau reports that 99.98% of all housing units and addresses nationwide were accounted for in the 2020 Census as of the end of self-response and field data collection operations. This is an incredible statistic—thank you to everyone who responded! The census is especially important to AN/AI people, as they are historically undercounted and effective policymaking depends on precise and reliable data. An accurate count means the proper allocation of hundreds of billions of dollars in funding for public services and infrastructure—such as hospitals, emergency services, schools, roads and bridges—each year over the next 10 years.
U.S. General Election
More Americans voted in the 2020 election than in any other in more than 100 years. Alaska's turnout was the highest since at least 2008, and much higher than the last two presidential elections. Many AN/AI leaders have worked tirelessly to gain and protect our right to vote. Elections go beyond who will be president; your vote is your voice on issues affecting housing, education, employment and health care. There is no greater tool in helping create the future than by being civically active. Thank you to everyone who cast their vote and made their voices heard!
Virtual Events
While I truly missed seeing our shareholders, descendants and their families at this year's Information Meetings, Annual Meeting of Shareholders and Friendship Potlatches, CIRI was pleased to offer these events virtually. There is no substitute for in-person interaction, and I look forward to the day we can all be together. However, by bringing these events online, we were still able to connect—without risking health and safety.
Youth Opportunities
As part of its commitment to engage and support the next generation of shareholders, CIRI continued to offer several youth programs, including its annual art contest and youth educational incentive prize drawings. A number of shareholders and descendants ages 10 through high-school age also attended Next Gen Day in January, where they received a behind-the-scenes introduction to CIRI, engaged in cultural activities and participated in professional-mentoring sessions. Thanks to Cook Inlet Tribal Council's Internship Partner Program, CIRI was even able to virtually host a summer intern! Keep an eye out for new youth opportunities in 2021.
As 2020 draws to a close, let us set our sights on the promise of a hopeful tomorrow. With the new year on the horizon, may we embrace it with an open heart and go forward with faith, hope and courage.
Warm regards,
Sophie Minich