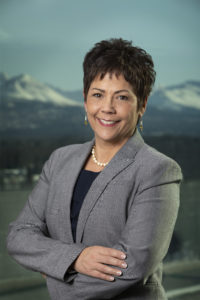 As we move into the new year, there is much to be grateful for. I say this not to diminish the challenges we faced during 2020, because we all struggled in one way or another. Rather, times of crisis help foster an appreciation for the good and important things in our lives. These include family, friends and neighbors; the way technology improves our lives and helps bring us together; nature, exercise and fresh air; the opportunity to help others; and even support and solidarity from strangers.
In addition to CIRI's own staff—who have consistently demonstrated dedication and integrity and have kept the company running since the start of the pandemic—I would like to express my gratitude to our frontline and essential workers. You have risen to the challenge to stay strong and support our communities during these tough times and we are forever grateful.
All CIRI employees have a great responsibility to our shareholders, especially as we navigate our way through this period of uncertainty. During this time, CIRI's values of Mission Driven, Excellence, Honor, Respect and Unity have provided a much-needed constant. Rooted in our culture and heritage as Alaska Native people, they guide the company's priorities, support its vision and shape its culture. In sum, they form the basis of CIRI's identity.
The active involvement of our shareholders keeps us true to our values and ensures future generations may also benefit from CIRI's strength and prosperity. Shareholders' responsibilities start with being knowledgeable about CIRI's business and the general goings-on of our company. Reading the Raven's Circle newsletter and Annual Reports and attending Information Meetings and the Annual Meeting of Shareholders are excellent ways to do this. Shareholders can also apply to serve on a Shareholder Participation Committee, which offers a unique opportunity to learn more about CIRI and its affiliated nonprofit organizations, meet executive and management staff, and increase shareholder communication with the company.
One of the most important responsibilities of being a CIRI shareholder is to select well-qualified shareholders to serve on the CIRI Board of Directors to oversee the direction and decisions of the company. Shareholders with a good understanding of the current activities, opportunities and challenges facing CIRI are best suited to evaluate the candidates and vote for directors who are qualified, knowledgeable and committed to continuing the growth of the company.
Board elections are coming right up! More information will be made available in mid- April, when the 2020 Annual Report and this year's Voter's Guide and Proxy Statement are distributed. In the meantime, I invite you to familiarize yourself with our current Directors by visiting ciri.com/board-of-directors.
I also encourage you to consider reducing your carbon footprint by signing up for electronic delivery of certain of your annual meeting materials. Visit ciri.com/GreenLink to learn about special prize opportunities available to shareholders who opt to receive Annual Meeting materials and a variety of other materials electronically.
Thank you for doing your part in keeping CIRI true to its values.
Warm regards,
Sophie Minich