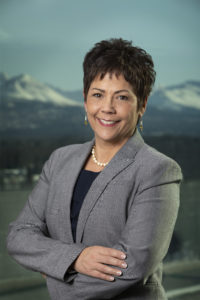 As the leaves start to change here in the Cook Inlet region, it's hard to believe our brief and glorious summer is coming to a close.
No matter the season, I am grateful for the bounty of our region and the ability to get outside. In fact, research has shown that exposure to natural environments is associated with mental health benefits, including lower levels of stress and reduced symptoms of depression and anxiety.
Spending time outdoors might even help buffer the effects of loneliness or social isolation. While social isolation is typically associated with decreased subjected well-being, researchers have found that when people with low social connectedness spend more time in nature, they report high levels of well-being.
As September is National Suicide Prevention Awareness Month, there is renewed focus on our mental health. In August 2020, the U.S. Centers for Disease Control and Prevention (CDC) released the results of a nationwide survey conducted during the last week of June 2020. More than 40% of respondents reported symptoms of anxiety, depression or increased substance use, in addition to other struggles. And more than 10% said that they had seriously considered suicide in the past 30 days, compared with just over 4% who said the same thing in 2018.
While it is too soon to know whether the COVID-19 pandemic will result in more suicides as it can take a year or two for the CDC to collect and analyze national mortality data, its effects can exacerbate multiple factors—economic stress, social isolation, the death of loved ones, loss of community—that may increase suicides.
The pandemic has generated anxiety and stress for many, making it imperative to remain vigilant to prevent mental-health crises. Here are a few things to keep in mind:
If you or someone you know is in an emergency, it is important to call 911
If you are in crisis or are experiencing difficult or suicidal thoughts, it is important for you to call the National Suicide Hotline at (800) 273-TALK (8255).
If you're uncomfortable talking on the phone, you can text the National Alliance on Mental Illness at 741-741 to be connected to a free, trained crisis counselor on the Crisis Text Line.
Southcentral Foundation's Denaa Yeets' program provides services to Alaska Native/ American Indian (AN/AI) adults at risk for suicide or who have experienced the death of a loved one from suicide. The program is staffed with behavioral health case managers who connect customer-owners to different services, including medication management, therapy, financial aid, housing and job-search assistance. For information, call (907) 729-5260 / (800) 478-3343.
Suicide is a complex issue that requires a multi-pronged approach to address effectively. Alaska has the second-highest suicide rate in the nation per capita and AN/AI people have the highest rates of suicide of any racial/ethnic group in the U.S. Marginalization, stigma, discriminatory public policies and racial trauma are a few of the factors greatly affecting health outcomes in AN/AI people.
#BeThe1To is the National Suicide Prevention Lifeline's message for National Suicide Prevention Month and beyond, which helps spread the word about actions we can all take to prevent suicide. The Lifeline network and its partners are working to change the conversation from suicide, to suicide prevention, with actions that can promote healing, help and give hope. We all have a role to play in suicide prevention. To learn more, visit suicidepreventionlifeline.org.
Warm regards,
Sophie Minich