Ruth Bader Ginsburg, Amelia Earhart, Rosa Parks, Eleanor Roosevelt… When we think of the accomplishments of women who have shaped our world, often overlooked are Indigenous women, whose contributions have likewise made significant impacts on the country. Read on as we highlight a few of Alaska's very own Alaska Native female trailblazers. Thanks to their work, creativity and resolve, we're one step closer to living in a fairer and more equitable world.
Agnes Brown
Original CIRI shareholder B. Agnes Brown's service to the Alaska Native community and rural Alaska stretches back nearly 50 years. Fittingly, Agnes, whose maiden name is Kaloa, was born July 4 in the village of Tyonek, Alaska. She is of Dena'ina Athabascan and Hawaiian descent and was an activist for the passage of the Alaska Native Claims Settlement Act (ANCSA) and a founding board member of the Alaska Federation of Natives.
Along with serving as president and chair of Tyonek Native Corp. (TNC) from its inception in 1973 until 1986, Agnes holds the distinction of being the longest-serving woman on CIRI's Board, having served from 1974 to 2011. She fought for almost 10 years for TNC's rights under ANCSA to the lands of the former Moquawkie Indian Reservation, culminating in the award of surface estate to TNC and subsurface rights to CIRI. She also played a critical role as a member of CIRI's Land Negotiating Committee, working diligently to ensure the company obtained resource-rich lands in the Southcentral region that retained similar characteristics to lands traditionally used. These efforts eventually led to the Cook Inlet Land Exchange of 1976, enabling CIRI to acquire valuable land on the Kenai Peninsula and to bid on out-of-region land selections, forming the basis for the company's future financial success. Because of ANCSA's resource revenue-sharing provision, the Exchange also served as a stabilizing factor for other Alaska Native corporations struggling at the time.
Agnes served as a trustee of the CIRI Elders' Settlement Trust; a director of the Alaska Native Medical Center Joint Operating Board, Cook Inlet Tribal Council Board and Southcentral Foundation (SCF) Board; and a member of SCF's Traditional Healing Advisory Council. A dedicated supporter of SCF's Elder Program, each summer for nearly 20 years Agnes donated 200-300 salmon for distribution to Elder program participants, enabling them to benefit from staying connected to traditional foods. In 2012, Agnes was named CIRI's Shareholder of the Year, and in 2019, the Alaska State Legislature honored her for "… a lifetime dedicated to creating a sustainable future for Alaska Native people." Agnes is retired and currently resides in Anchorage.
Katie John

Katie John was born in 1915 near the present-day community of Slana, Alaska, located approximately 75 miles northeast of Glennallen. She fought for years for the right to fish on traditional Ahtna Athabascan lands along the Copper River, where her family and other Alaska Native families had always fished. The resulting court rulings of the "Katie John Case" led to major changes in how wildlife is allocated in Alaska.
After Alaska became a state in 1959, it assumed full authority of fish and game. In 1964, the Alaska Department of Fish and Game closed nearly all traditional fishing sites in the upper Copper River and its tributaries under the guise of conservation, although there was no documented need to do so.
In 1984, Katie and another Ahtna elder, Doris Charles, submitted a proposal requesting that the Alaska State Board of Fisheries open Batzulneta, a historic upper-Ahtna village and fish camp located within what is now the Wrangell-St. Elias National Park, to subsistence fishing. Their request was denied, even though downstream users were permitted to take hundreds of thousands of salmon for sport and commercial uses.
When they were denied, the Colorado-based Native American Rights Fund took up the cause. Together they fought for years, and in 2014, a year after Katie passed away at the age of 97, the Supreme Court refused to accept the State of Alaska's petition to overturn a lower court's decision in her favor—a huge victory in the fight for subsistence rights.
Along with her husband, Katie raised 20 children, including six that were adopted. At the time of her death on May 13, 2013, she counted more than 250 descendants. She was instrumental in keeping the Ahtna Athabascan language alive, helping create its first written alphabet and making recordings that taught correct pronunciation. She received an honorary doctorate degree from the University of Alaska Fairbanks in 2011. In 2019, the Alaska State legislature designated May 31, the day of Katie John's death, as Katie John Day, creating an official day to celebrate her legacy.
Elizabeth Peratrovich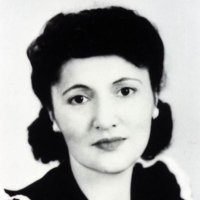 Elizabeth Peratrovich was born in 1911 in Petersburg, in what was then the Territory of Alaska. Like Agnes Brown, Elizabeth's birthday was July 4. The daughter of a Tlingit woman and an Irish man, Elizabeth was adopted by Andrew and Jean Wanamaker. Andrew was a charter member of the Alaska Native Brotherhood, a nonprofit organization formed to help Alaska Native people achieve U.S. citizenship, address racism and secure economic parity through the recognition of Indian land title and mineral rights.
Elizabeth grew up speaking Tlingit and English and living a subsistence lifestyle in Southeast Alaska. She married her husband, Roy Peratrovich, in 1931, and together they raised three children.
In 1941, the Peratrovich family moved to Juneau, the territorial capital, to lobby for passage of anti-discrimination legislation. Elizabeth and Roy respectively served as presidents of the Alaska Native Sisterhood and Brotherhood and together they, along with many others, including Alaska Governor Ernest Gruening, fought against the cruel treatment that consigned Alaska Native people to a second-class existence. Elizabeth's testimony was instrumental in the passage of the Anti-Discrimination Act of 1945, which prohibited racial discrimination in Alaska.
Among other pursuits, Elizabeth and Roy also worked to revise the Alaska juvenile code and Widows' and Orphans' Act to be nondiscriminatory and lobbied to have racist practices employed by the U.S. Army against Alaska Native people during World War II discontinued. Additionally, Elizabeth collaborated with the ANS to procure services for Alaska Native people with tuberculosis; spearheaded fundraising efforts to support the efforts of the American Red Cross to nurse wounded soldiers; wrote to the U.S. Department of the Interior Office of the Solicitor regarding the potential to compensate Alaska Native people for the loss of aboriginal land rights; and had the constitution of the National Congress of American Indians changed to enable previously ineligible Alaska Native people to become members.
Elizabeth Peratrovich passed away from breast cancer on Dec. 1, 1958, at the age of 47. Her late son, Frank, was an original CIRI shareholder, as are Frank's sons, Frank Jr. and John.
On Feb. 6, 1988, the Alaska Legislature designated Feb. 16 (the day in 1945 on which the Anti-Discrimination Act was signed) as Elizabeth Peratrovich Day. More recently, Elizabeth was chosen as the subject for a biography by author Annie Boochever. "Fighter in Velvet Gloves" was released in 2019 and has since won national and international honors and recognition. In 2020, Elizabeth was commemorated on a $1 U.S. coin. The coin is part of the U.S. Mint Native American Dollar Coins program, which honors and recognizes the important contributions made by Indian tribes and individual Native Americans. It may be purchased through the Mint's Denver and Philadelphia locations; however, a recently signed House Joint Resolution urges the Mint to produce and deliver at least 5 million coins to the Seattle branch of the Federal Reserve for distribution throughout Alaska.
Alberta Schenck Adams


Known as the "Rosa Parks of the Arctic," Alberta Schenck Adams was born June 1, 1928, in Nome, Alaska, to an Inupiaq mother and an Irish father.
When she was in high school, part of Alberta's job at Nome's Alaska Dream Theatre was to make sure "non-white" patrons sat in a designated segregated area. When she complained to the theater's manager, she was fired. On March 3, 1944, Alberta's response was published in the Nome Nugget newspaper: "I believe we Americans and also our Allies are fighting for the purpose of freedom. Many of our early ancestors fought for the very same purpose, so their children and children's children, etc., would be free. … What has hurt us (Alaska Native people) constantly is that we are not able to go to a public theater and sit where we wish, but yet we pay the SAME price as anyone else and our money is GLADLY received."
When Alberta later returned to the theater with a "white" date and refused to move from the "whites only" section, she was arrested and jailed. The next day, after being bailed out by her father, Alberta sent a wire to Governor Ernest Gruening.
Much of Alberta's advocacy was linked to her family. Her Aunt Frances Longley was a member of the Arctic Native Sisterhood in Nome, providing a connection with Elizabeth Peratrovich, whose travels to garner support of the ANB and ANS efforts to pass anti-discrimination legislation had taken her across the state, including to the Arctic. It was Frances's partner, Territorial Senator Orville Deville "O.D." Cochran, who introduced the anti-discrimination bill in the 1945 Senate.
According to an article in the February 6, 1945, edition of Ketchikan's The Alaska Fishing News, Senator Frank Whaley argued that the anti-discrimination bill would create racial trouble and would be a "perpetual paystreak" for attorneys. "The statement stirred the ire of O.D. Cochran … who vehemently resented the remark about a paystreak for attorneys, and proceeded to recite some of the 'distressing discriminations' occurring in Nome…," including sharing Alberta's story.
Alberta passed away July 6, 2009. In 2011, she was posthumously inducted into the Alaska Women's Hall of fame. Several of Alberta's family members are CIRI shareholders and descendants.
Clara "Clare" Swan
Born on Alaska's Kenai Peninsula, original CIRI shareholder Clara "Clare" Swan grew up the eldest of nine siblings. Her mother's family was Dena'ina Athabascan and her father was of Filipino descent. Though multiple languages were spoken in her home, she remembers being reprimanded by a teacher for speaking Dena'ina at school. (Years later, the teacher apologized.)
In 1950, Clare married her husband Van and together they raised four children. The family was living in Seward, Alaska, when the 1964 Good Friday earthquake hit and destroyed their home, so they relocated to the Lower 48 to be near Van's family.
Once her own children were raised, Clare enrolled in Loyola College (now Loyola University New Orleans) in Louisiana and earned a degree in business. She and her husband moved back to Alaska in 1973, shortly after passage of the Alaska Native Claims Settlement Act and just as incorporation was occurring for the Kenaitze Indian Tribe (KIT).
Clare chaired KIT for 15 years and led the effort to secure its Traditional Educational Fishery. She was instrumental in helping to establish KIT's Dena'ina Health Clinic as well as youth programs and a community agricultural program. As a certified substance abuse counselor, a volunteer with the court system and an active participant in the effort to revitalize the Dena'ina language, including relearning the language herself, Clare has helped countless Alaska Native people.
She served on CIRI's Board of Directors from 1991 to 2005 and has served on Cook Inlet Tribal Council's (CITC) Board of Directors since 1998. In 2009, Clare was honored with the Alaska Federation of Natives (AFN) President's Award for Elder of the Year and in 2011 was inducted into the Alaska Women's Hall of Fame. For her exemplary dedication to Alaska Native culture, heritage and communities, she was named CIRI's Shareholder of the Year in 2013.
In 2017, Clare was honored by CITC with the naming of the Clare Swan Early Head Start Child Care Center. She also gave the keynote address at that year's AFN Annual Convention.