A Message from CIRI Director Jeffrey Gonnason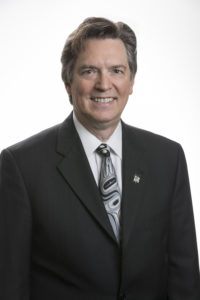 My name is Jeffrey Gonnason. I am Haida and an original CIRI enrollee. It has been my honor to serve as a CIRI Director since 2006.
I was raised in Ketchikan and Craig, Alaska, where I spent summers fishing and singing and dancing traditional Alaska Native songs with my relatives. I was taught the value of family supporting one another and sharing cultural values. My family moved to Anchorage after the 1964 earthquake and my mother, brother and I received our CIRI shares when we enrolled with the corporation after the passage of the Alaska Native Claims Settlement Act in 1971.
I studied engineering and broadcasting at college in Washington and Oregon and went on to earn my Doctor of Optometry degree, working in several Bush villages and the Alaska Native hospital before opening my own optometry practice in 1976. I recently sold the practice and retired, though I frequently fill in as an associate for the new owner.
Since education played such an important role in my own life, I became a founding director of The CIRI Foundation (TCF) in 1982 and currently serve as its board chair. The education of Our People has always been my passion, because education is truly the best way to raise our quality of life. TCF has produced dramatic results, and many of our scholarship recipients are your current and future leaders. I am very proud of TCF and all its accomplishments on behalf of CIRI over the years.
Despite recent strides, U.S. testing has scored Alaska's students near the bottom among the 50 states, and only approximately 63% of Alaska Native/American Indian (AN/AI) students graduate from high school compared to 81% for all students. In the Lower 48, AN/AI students' academic achievement and educational attainment likewise lags far behind that of their non-Native peers, and nationwide, AN/AI youth face some of the lowest high-school graduation rates.
A good education directly correlates with virtually every quality-of-life measurement, including employment, income, and even life expectancy. It is incumbent upon us to close the gap between Alaska Native and general student performance here in Anchorage, throughout Alaska and across the country.
We have a responsibility to provide our youth meaningful interaction with CIRI and opportunities to learn its rich culture and history, while supporting education among Alaska Native people and their career advancement. At the same time, by including our young people, CIRI builds the next generation of leaders who will carry our company forward.
I invite you to learn more about CIRI's descendant and youth opportunities at ciri.com/nextgen and about academic and vocational funding opportunities available through The CIRI Foundation at thecirifoundation.org. If you have questions for me or any of your other CIRI Directors, I invite you to reach out directly at board@ciri.com.