Shining Lights Award Banquet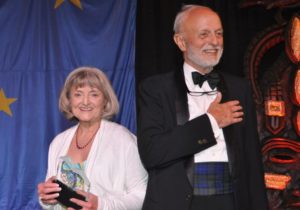 Tikkun olam is a Hebrew phrase that means "repairing the world." In Reform Judaism, it underpins the importance of working collectively toward prosperity, health and justice for all.
Each year, Congregation Beth Sholom recognizes those who exemplify the ideals of tikkun olam at its Shining Lights Award Banquet. In addition to highlighting the honorees for their good works, proceeds from the event support Congregation Beth Sholom's non-denominational programs that support families touched by tragedy or illness, provide food and clothing to individuals and families in need, and offer scholarships and educational funding to students.
The 2018 Shining Lights Award Banquet honored the contributions of Ruth and Tom Nighswander, an Anchorage-based nurse and family practice doctor, respectively, who have dedicated their lives to improving health care in communities from Alaska to the East African nation of Malawi. The event was held April 26 at the Hotel Captain Cook in Anchorage.
In addition to his work abroad, since 1972, Dr. Nighswander has worked with the Alaska Native Medical Center to improve health care in underserved areas, while Ms. Nighswander has been a school nurse in the Anchorage School District for the last 30 years. Together, the couple helped establish the Malawi Children's Village, a program that provides education, food, health care, safety and shelter to several thousand orphans each year.
"Ruth and Dr. Tom Nighswander are shining examples of tikkun olam, and CIRI was proud to help sponsor this year's Shining Lights Award Banquet," said CIRI Community Relations Manager Rachel Batres. "From their efforts to improve health care in Alaska to working with orphans in Malawi, the Nighswanders' compassion, dedication and enthusiasm call out the best in each and every one of us."