Tyonek Computer Workshop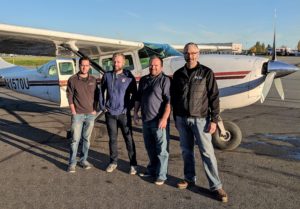 An Alaska Native Claims Settlement Act (ANCSA)-designated village of the Cook Inlet region, Tyonek is located about 40 air miles from Anchorage on a bluff overlooking the northwest shore of Cook Inlet.
At one time, the village was one of the largest ports in Alaska. In the 1960s, oil companies leased Tyonek lands for nearly $13 million; the funds enabled the village to build housing, a school and a new Tribal Center, improve roads, expand the airstrip and establish a children's trust for education. The village also used a substantial portion of the funds to help finance the first-ever meeting of the Alaska Federation of Natives.
Now, times have changed; long-term employment opportunities are scarce, and most of Tyonek's 175 residents piece together work. Things like jobs and groceries can be difficult to come by.
On Sept. 14, CIRI's Information Technology (IT) department, in conjunction with the Native Village of Tyonek, hosted a computer workshop at Tyonek's community center. All Tyonek residents, regardless of CIRI shareholder status, were invited to attend. Workshop topics included IT security awareness training, computer inspection and updates, digital subscriber line inspections and personal computer troubleshooting.
"The workshop was a great way for us to employ our skills and services where they are truly needed," said Tad Fennimore, senior manager, CIRI IT. "Working with the Native Village of Tyonek, we were able to reach many residents who don't have access to the services most of us take for granted. Everyone was very appreciative, and our team had a great time too!"