Go Red for Women

By promoting healthy lifestyles, building awareness and raising critically needed funds to support research and education initiatives, the annual Anchorage Go Red for Women luncheon is the cornerstone of the national movement to end heart disease and stroke in Alaskan women.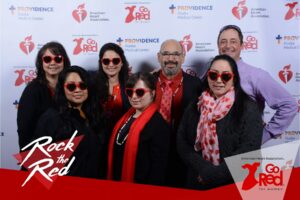 Though often thought of as a disease that disproportionally affects men, heart disease strikes more women than men and is deadlier than all forms of cancer combined. While one in 31 American women dies from breast cancer each year, heart disease is the cause of one out of every three deaths.
Because symptoms of heart disease vary greatly between men and women, they're often misunderstood. Media has conditioned us to believe that the telltale sign of a heart attack is extreme chest pain. But in reality, women are somewhat more likely to experience shortness of breath, nausea/vomiting and back or jaw pain. Other symptoms include dizziness, lightheadedness or fainting, pain in the lower chest or upper abdomen and extreme fatigue.
While nationally the highest heart disease rate is found among African American people, the highest rate among Alaskans is in Alaska Native populations. And although historically Alaska Native women have had relatively low rates of heart disease, the incidence in Alaska Native women now surpasses that in Alaskan non-Native women.
CIRI is a long-time supporter of Go Red for Women, the American Heart Association's campaign to encourage awareness of the issue of women and heart disease. In 2018, CIRI President and CEO Sophie Minich was featured in a television spot encouraging Alaska Native women to take charge of their heart health. CIRI is also a sponsor of Anchorage's annual Go Red for Women conference and luncheon, which this year was held Feb. 27.
For more information about women's heart-health awareness, visit www.goredforwomen.org.