Clothesline Project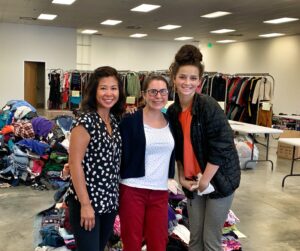 More than 12% of Anchorage children 5 to 17 years of age live below the poverty level, a number 4% higher than the overall Anchorage population. According to the National Center for Children in Poverty, research shows that poverty is the single greatest threat to children's well-being, impeding their ability to learn and contributing to poor mental and physical health.
Even though most children who live below the poverty threshold have parents who work, low wages and unstable employment leave families struggling to make ends meet. The start of a new school year can be especially stressful time for these families, as many don't have extra funds to pay for school supplies, student activity fees and back-to-school clothes, shoes and outdoor gear.
Thankfully, programs like the Clothesline Project are stepping in to help.
A program of Anchorage Cops for Community, the Clotheslines Project provides free clothing, backpacks and back-to-school supplies for Anchorage children in need. Throughout the summer, Anchorage Cops for Community collects items for its annual Clothesline Project. This year, on Saturday, Aug. 10, Anchorage Police Department employees and community members distributed free clothes and provided food, activities and more to Anchorage students in grades K through 12. The event was held at the Tikahtnu Commons, a CIRI investment that has become Anchorage's largest retail and entertainment center.
CIRI's Fireweed Business Center served as a drop-off location for donated items, and CIRI employees volunteered in the weeks leading up to the Aug. 10 event collecting, sorting and folding clothes.
For more information about the Clothesline Project, visit the Anchorage Cops for Community Facebook page at www.facebook.com/AnchorageCops.