Cook Inlet Tribal Council Blessing Bags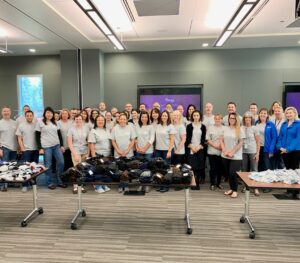 Each September, CIRI employees celebrate the anniversary of the company's corporate values: Mission Driven, Excellence, Honor, Respect and Unity. Developed in 2015 by a group of employees from all levels and departments, CIRI's values are expressed throughout the company, from the Board of Directors and executive management team, to each and every employee of the organization. We hold ourselves to these values as standards of professional conduct in our interactions with shareholders, descendants, business partners and customers, members of our community and each other.
On Sept. 26, as a show of Respect—"treat people with dignity, show empathy"—CIRI employees participated in an all-staff volunteer activity to put together blessing bags. Cook Inlet Tribal Council's (CITC) Child and Family Services program staff then distributed the bags, which contained warm socks, gloves and toiletry items, to homeless individuals and to Anchorage nonprofits that serve the homeless population.
"It's amazing what we can accomplish when we come together around a common goal," said Corporate Administrator Rachel Batres, who oversees CIRI's community relations program. "We were able to assemble 200 blessing bags in just a few minutes because we took an all-hands-on-deck approach. CITC was incredibly grateful to have the bags, especially as temperatures drop around the Anchorage area."
For more information about CITC's Child and Family Services program, visit citci.org/child-family.