Submissions due: 5 p.m. AKDT on Wednesday, Aug. 14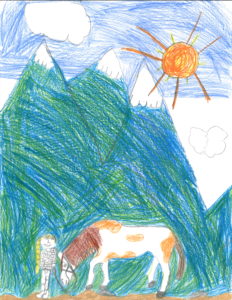 Youth Art Contest (ages 5-12)
CIRI shareholders and descendants aged 5 to 12 are invited to submit original artwork interpreting the theme "What do you love about the great outdoors?" and a completed entry form by 5 p.m. Alaska Daylight Time on Wednesday, Aug. 14. Winners will be eligible for $500 in prizes and their artwork will be featured in the Raven's Circle and at the CIRI and The CIRI Foundation Friendship Potlatches this fall.
Entry forms can be downloaded and printed at www.ciri.com/nextgen and are also available from Shareholder Relations.
SPC Youth Representatives (ages 13-17)
Teens have an opportunity to apply for one of three youth representative positions on the Shareholder Participation Committee (SPC). SPC youth representatives provide input to the SPC as it works with the corporation on issues or activities identified by the SPCs, the shareholders or the corporation.
To be eligible to serve, youth must be a CIRI shareholder or a confirmed, registered CIRI descendant 13 to 17 years of age. Interested youth must submit:
An application;
A letter of introduction;
A short essay explaining why they want to serve as a youth representative and what they know about their Alaska Native heritage and CIRI; and
A letter of recommendation.
Submissions must be received by CIRI by 5 p.m. Alaska Daylight Time on Wednesday, Aug. 14 to be considered. The application can be downloaded and printed at www.ciri.com/nextgen and is also available from Shareholder Relations. Information on how to register as a CIRI descendant is also available on the CIRI website and from Shareholder Relations.
Complete packets received by the Aug. 14 deadline will be reviewed by a selection committee and those chosen will be contacted. Youth representatives participate in a two-day October SPC meeting, which is when new SPC members—brought on after the Annual Meeting of Shareholders—receive general information about CIRI and its affiliated nonprofit organizations, as well as a one-day meeting in June.
CIRI believes it will be useful for the youth representatives to hear this information and to have an opportunity to meet CIRI Board members and executive staff. In turn, CIRI leadership hopes to learn more about the issues important to the next generation of shareholders.