Ernest Lee Escholt, 65
Ernest Lee Escholt passed away Nov. 29, 2018, in Anchorage. Mr. Escholt was born July 13, 1953, in Alaska. He is survived by his children, Nevada Escholt and Natasha Escholt; and brother, Albert Escholt.
Julie (Keen) Johnnie, 59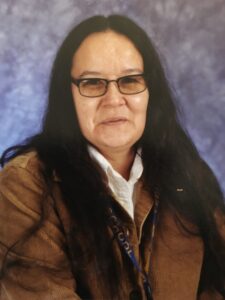 Julie (Keen) Johnnie passed away Dec. 25, 2018, at home in Anchorage. Ms. Johnnie was born April 18, 1959, in Limestone, Maine. She is survived by her loving husband of 21 years, Bert Johnnie Jr.; children, Jeffrey Hurlburt Jr. (Taneone) and Jeromy Hurlburt; brothers, Daniel Bushey and James Lombardi; sister, Tammy Keen; stepchildren, Bernard, Charlie and Angela Johnnie; grandchildren, Taylor, Olivia, Madison, Julia, Jameson and Ahndria; and great-grandson, Gregory.
Rhonda Agnes Lewis, 80
Rhonda Agnes Lewis passed away Jan. 9 in Anchorage. Ms. Lewis was born Nov. 20, 1938, in Pilot Point, Alaska. She is survived by her daughter, Irma Lee Meticgoruk; and sister, Pearl Reamer.
Marilyn Mae Seetomona, 63
Marilyn Mae Seetomona passed away Nov. 14, 2018. Ms. Seetomona was born Oct. 24, 1955, in Nome, Alaska. She is survived by her son and daughter-in-law, Christopher and Jamie Seetomona; grandchildren, Novalee and Terrace Seetomona; sister, Lorena Seetomona; sister and brother-in-law, Harriet and Everett Cutshall; brothers, Stephen and Coolidge Seetomona; sisters-in-law, Linda and Viola Seetomona; and many nieces and nephews.
Edna Metalokok Senungetuk, 86
Edna Metalokok Senungetuk passed away Dec. 11, 2018, at the Quyanna Care Center in Nome, Alaska. Ms. Senungetuk was born June 10, 1932, in Teller, Alaska. She is survived by her daughters, Barbara (Rocky) Beebe, Gloria (Russell) Walluk, Sarah Johnson, Joann Fugatt, Bessi (Warren) and Sharlene (Gary) Beck; son, Curtis (Sheryl) Nayokpuk; son-in-law, Joe Hill; grandchildren, Thomas (Joanna), Jeanette, Wilfred (Starla), Elliot, Melissa, Angela, David, Andrew, Sandra, Teena, Mabel, Randy, Ralph (Krista), Victoria (Gyver), Esau, Frederick, Stevie, Dustin, Melinda (Randy), Sandra, Curtis Ray (Brenda), Walter, Sylvia, Travis (Michelle), Donna (Mark) Barr, Wanda (Jason) Hollingsworth and Robert Joseph Hill; great-grandchildren, James (Ida), Sonny (Brandi), Zander (Mamie), Brittany (Skylar), Hayley (Darin), Josh, Joseph and Jaxon; and many nieces, nephews, great-nieces, great-nephews, and sisters-and brothers-in-law.
Ruby Louise Stratton, 64
Ruby Louise Stratton passed away Nov. 21, 2018, in Anchorage. Ms. Stratton was born Oct. 22, 1954, in Anchorage. She is survived by Lonnie, Vernon and Gary Stanford.
Leroy Williams, 74
Leroy Williams passed away Jan. 7 at the Alaska Native Medical Center in Anchorage. Mr. Williams was born June 26, 1944, in Nenana, Alaska. He is survived by his siblings, Rebecca Sophie Williams, Alberta Delores Newton and Ronnie Williams.
Condolences
Mae Bergstrom, 82
Sharon Lee Culhane, 74
Terry Ann Kelly, 61
Christopher Paul Ollestad, 54
Sophie Phillips, 70
Eldrine Rose Richardson, 73
Carole Rae Sassaman, 73
Steven John Whitley, 58