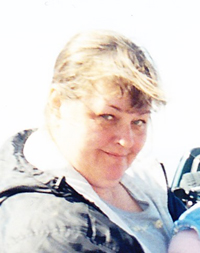 Mary Anowruk Alexander, 88
Mary Anowruk Alexander passed away June 27 in Anchorage. Ms. Alexander was born Feb. 19, 1925, in Wales, Alaska. She worked as a bilingual teacher, sewing instructor, 4H club assistant, foster parent and student chaperone. Her hobbies included knitting, sewing, crossword puzzles, reading her bible and subsistence gathering. Ms. Alexander is survived by her children, Charles Oxereok Sr., Lorna Smith, Gilbert Oxereok, Lois Pointer and husband Nathaniel and Leona Oxereok and companion Ron; sisters-in-law, Betty Oxereok, Edna Senungetuk and Barbara Beebee; grandchildren, Charles Jr. and Jonathon Oxereok, David, John and Kahani Donajkowski, Cindy Alexander, Natasha Smith, Jaclyn Torres-Perez, Zenita Wendt, Arnold Olanna and Agnes Babb. She is also survived by many cousins, nieces, nephews, great-grandchildren, and great-great-grandchildren who loved her dearly.
Marie Andrews, 62
Marie Andrews passed away Oct. 11, 2012 in Anchorage. Ms. Andrews was born in Anvik, Alaska. She is survived by her daughters, Edith, Ivy and Jolene Andrews; sons, Timothy Bidwell and Curtis Sattler; and sisters, Anita Litchfield and Janet Beeter.
Robert Gene Cooper, 68
Robert Gene Cooper passed away May 4 at home in Somerville, Texas. Mr. Cooper was born Sept. 6, 1944, in Ninilchik, Alaska. Mr. Cooper was proud of two things, being Alaska Native and having served in the Navy. He was a fisherman, crane operator and worked in Antarctica in 2005. He loved to garden, woodwork and visit friends and family. Mr. Cooper is survived by his wife, Dena Cooper, and brother, Jon Liebenthal.
Annette Louise Stanford, 53
Annette Louise Stanford passed away May 30 at Central Peninsula Hospital in Soldotna, Alaska. Ms. Stanford was born Feb. 29, 1960, in Anchorage. She lived in Kenai all of her life and enjoyed clamming at Clam Gulch and camping at Whisky Gulch. Her family wrote that she was a wonderful wife, mother, sister, grandmother, auntie and friend who had a hearty laugh and a contagious smile. She is survived by her husband, Lonnie Lamar Stanford; son, Lonnie Lamar Stanford Jr.; daughter, Katrina Pierce and her husband, Ryan; grandchildren, Taylor, Ryan and Addison; sisters, Jeanette Tautfest and Tanya Lochbaum; and many family members and friends throughout the state.
Jack Eugene Stedman Sr., 86
Jack Eugene Stedman Sr. passed away May 5 at Valley Healthcare Center in Fresno, Calif. Mr. Stedman was born April 24, 1927, in Petersburg, Alaska. He is survived by his wife, Miriam Stedman; son, Jack Stedman; and daughter, Eva Stedman.
Condolences
Kathy Lynn Kvasnikoff, 40
Joseph David Petro, 51
Twila Nadel Webster, 52