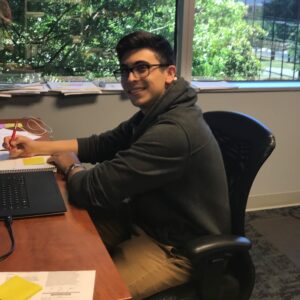 When one thinks of summer internships, the image that springs to mind is of an underpaid college kid doing a lot of busy work and making sure his boss stays caffeinated. Thankfully, that's a far cry from the experience I had this summer at CIRI subsidiary the North Wind Group.
To start, allow me to give some insight into who I am and why this internship has meant so much to me. My name is Cameron Ramos and I was born and raised in Kenai, Alaska. My family is Dena'ina Athabascan I have been an active member of the Kenaitze Indian Tribe since my youth, having participated in the Del Dumi Intertribal Drum Group, Native Youth Olympics, Jabila'ina Dance Group and Native Youth Council. I am currently pursuing degrees in environmental studies and Native American and Indigenous studies at the University of Minnesota Morris. Being both a Tribal member and a CIRI shareholder, I am inspired to pursue a higher education and career so that I can help the next generation of Alaska Native people thrive.
While working this summer at the North Wind Group, I was exposed to many departments— contracting, project management, government relations, air quality and permitting— and given the opportunity to develop my professional network. I experienced not only the administrative side of things, but I was also able to get out in the field and see some of the projects in action. I coordinated with project managers, North Wind's chief information officer, scientists, hydrologists and geologists, all of whom took the time to answer my questions and explain not only what we were doing, but the how and why behind it. Never have I been in such a professional and welcoming environment, and I truly am thankful to have been given this opportunity.
My internship with the North Wind Group was a phenomenal experience that I know will impact me for years to come. As I enter my senior year, I am grateful to have gained the real-world work experience, valuable skills and mentoring that will help me on the path ahead.
-Cameron Ramos