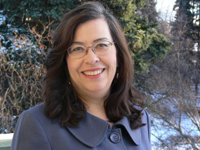 Listen for KNBA's live coverage of the Alaska Federation of Natives (AFN) Convention proceedings Oct. 24 through Oct. 26. Koahnic is broadcasting from the Carlson Center in Fairbanks to public stations across Alaska.
This year's AFN Convention theme, "Traditional Family Values," will facilitate much-needed discussion and potential solutions for the challenges faced by Alaska Native families and communities.
KNBA's AFN Convention coverage will be hosted by KNBA News Director Joaqlin Estus (Tlingit) and National Native News Producer and Anchor Antonia Gonzales (Navajo). Estus and Gonzales will host the hour-long "Alaska's Native Voice" live panel discussion from the Convention each day at mid-day.
KNBA 90.3 FM and radio stations across Alaska will carry the AFN gavel-to-gavel coverage. Stations from Barrow to Bethel to the Aleutian Chain will be carrying the broadcasts this year, as well as KRFF, a new, Native-operated station that serves Fairbanks and the Interior region. Complete audio streaming for internet listening and mobile devices will be available at
knba.org
.
In addition to the live, gavel-to-gavel coverage, KNBA will produce 5-minute updates each day of the convention in English with translations in Athabascan, Inupiaq, Tlingit and Yup'ik.