"Part of our history was we moved around in family groups," explains Gary Harrison, Traditional Chief and chairman of Chickaloon Village Traditional Council and a CIRI shareholder. He remembers when his family was one of only two permanent Tribal residents in the Chickaloon area; the other residents of what would come to be known as Chickaloon village were spread out along the road system. "During the land claims, you had to have something like 25 people in a village. We said, 'We're Chickaloon Moose Creek,' and that's how we got the corporation."
In addition to the Chickaloon Moose Creek Native Association, the designated ANCSA village corporation, Alaska Natives in the area are also represented by a tribal council. With offices located in Moose Creek, Sutton and Chickaloon, the Chickaloon Village Traditional Council's ancestral territory spans from Cook Inlet to Old Man Lake on the north side of the Chugach Mountains. The village's Ahtna name, Nay'dini'aa Na, means "the river with the two logs across it."
Chickaloon's recent history is inextricably tied to the impacts of the coal mining and railroad industries. Beginning in 1923 through the 1980s, mining operations and the railroads they brought to the area physically altered Moose Creek and damaged salmon habitat; village members found themselves having to travel great distances to harvest the salmon they depended upon. While the mines also brought jobs to the area, those jobs came with a price.
"My dad worked at the mines, and I remember him coming in, black from head to toe, just his eyes and his teeth peeking out from the coal dust," Harrison recalls. "The dust covered everything. Anytime we burned coal in the house, it smelled bad and the dust was everywhere."
---
"My dad worked at the mines, and I remember him coming in, black from head to toe, just his eyes and his teeth peeking out from the coal dust."
— Chief Gary Harrison
---
Those mines have long since closed, and in 1990, the Village Traditional Council built the first fish hatchery in Chickaloon, for which they're seeing returns today. In 2005, the Council restored fish passage to the upper watershed of Moose Creek. Still, potential future mining projects weigh heavily on the minds of the Tribe. While some locals insist that mining would bring about more jobs, others maintain that the environmental and health impacts would be too detrimental.
This tension is the biggest change CIRI shareholder Lisa Wade, council member and health, education and social services director for the Tribal government, has seen in her community over the years. Her family moved to Kenai when Wade was a child so her father could find work, but whenever they returned to Chickaloon, she recalls, "It was like coming to sanctuary. There was always a strong sense of family and community."
Since 2007, Wade has made it her mission to support that familial, communal atmosphere in Chickaloon. In 2011, in partnership with Southcentral Foundation, Wade and the Council established the C'eyiits' Hwnax ("Life House") Community Health Center in Sutton, which provides medical services to everyone.
"Everyone" is the key word: Chief Harrison fought to ensure that the clinic would be open to all, and not just to indigenous people. "We're trying to bring this community together. That way of operating, that focus on inclusiveness—that's what makes us successful in what we're doing."
Likewise, the Ya Ne Dah Ah School, opened in 1992, provides all students—Alaska Native and non Native—with a well-rounded education that places emphasis on diversity and a connection to the Ahtna Athabascan language, culture and traditions. The K – 12 school was inspired in part by Chickaloon Elder/Clan Grandmother Katherine Wade, "Aunt Katie" to most of Chickaloon. "We'd tried to help people over the years, but Aunt Katie said, 'I think we've been trying to help them too late,'" remembers Harrison. "She said that we need to help people when they're young. We need to tell them our stories, teach our culture."
The school, the weekly Elders' Lunch (see "Local Perspective"), cultural camps, Elder visits provided by the Tribal Government's Justice Department, road building projects, salmon restoration—it's all part of an effort to bring the people of Chickaloon together, build a stronger community and make sure the village remains the same place Wade remembers coming home to.
"I know what this place smells like, what it feels like under my feet," Wade describes. "There's a real strength for me to know how we're all connected to this place."
***
Local Perspective
---
Lisa Wade and Albert Harrison
••••
Every Thursday, between 20 and 75 people gather for the weekly Elders' Lunch in Chickaloon—an opportunity for folks in the community to catch up, connect and share stories. One Thursday in March, the lunch was also an opportunity to recognize a milestone: Chickaloon Village Traditional Council member and CIRI shareholder Albert "Sunshine" Harrison celebrated his 80th birthday.
"Uncle" Albert, as most folks in Chickaloon know him, has always been an inspiration in the community. In fact, he was the catalyst for Elders Lunch program, which the Tribe initiated in 2007.
When Health, Education and Social Services Director Lisa Wade sought to implement a new health and wellness program in the community, she turned to Uncle Albert for advice. "We just need to come together again," he told her.
But how? While she looked for the answer, Albert continued to pop by her office, sitting and chatting over coffee. In time, Wade realized that Albert was providing her mentorship and offering an example of something important that had been diminishing over the years: visiting.
Visiting has always been an important part of Chickaloon's culture. When she was a child, Wade recalls, "There was always someone stopping in." More recently, though, many of Chickaloon's Elders had become geographically isolated. Many were no longer able to drive. They needed transportation, Wade realized, and a venue where they could come together.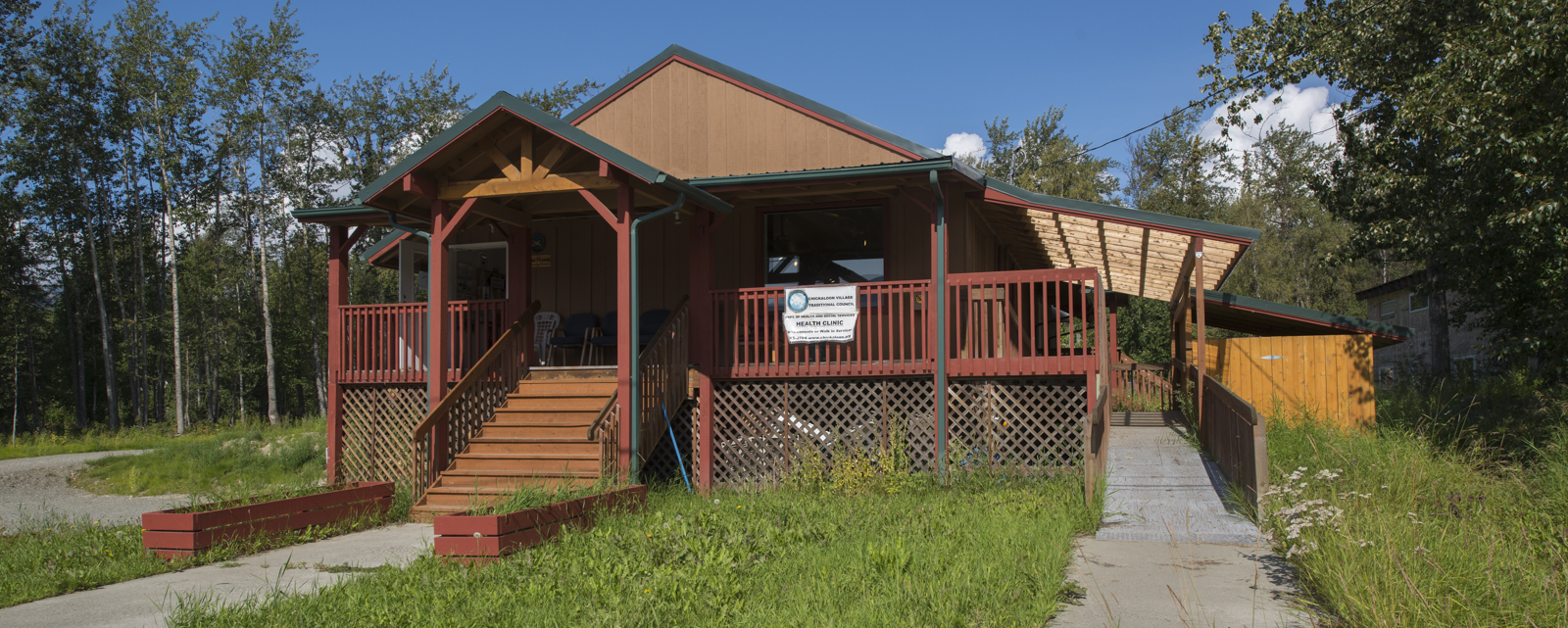 Done, she thought. There was already a space—a meeting hall located in the Ne'iine Hwnax ("Chickadee House") Government Building in Sutton—and she knew several great cooks who would be willing to volunteer. Before long, Wade and her staff were hosting the first Elders' Lunch.
And it was a flop.
"We probably brought in ten Elders, and they came and sat, and it was almost dead silence," Wade recollects. "Everyone was kind of hunkered over their food. I had told my staff, we're going to create this space, then we'll step back and let them visit."
---
"I know what this place smells like, what it feels like under my feet. There's a real strength for me to know how we're all connected to this place."
— Lisa Wade
---
The next week, Wade tried again. But this time, she sat with the Elders and began asking for stories. Soon, the room was filled with conversation. Uncle Albert, who is known for his sense of humor, laughter and music, had brought his guitar, inspiring an impromptu sing-along.
Today, singing has become a highlight of the Elders' Lunch, which is now attended not just by local Elders but by other Alaska Native people who have moved to the area, community Peace Officers, volunteers, other community members and, most importantly, children. Every other Thursday, students from the Ya Ne Dah Ah School join the Elders for lunch.
The visits offer a special opportunity for Elders like Uncle Albert. He showers them with the kind of love, affection and care that Chickaloon Native Village is founded upon. In turn, Wade's daughter, Ayla, and the other students have claimed him as their favorite.
"It means quite a lot," Uncle Albert says of the lunch. "I get to see relatives and make sure they're okay. We can relax. It brings people closer, to have something to do and get acquainted."
Watching the children and the Elders interact, it's easy to imagine the children growing up to continue the atmosphere of inclusiveness created by the Elders' Lunch.
"I've had people come here and tell me this place is like magic," Wade says. "People call me and ask, 'How do I get this to happen in my community?' It just takes the inspiration of Elders like Uncle Albert."