Today, only two buildings mark the remnants of Old Knik: The Knik Museum, which was once a general store and a pool hall, and a small, empty cabin nearby. Knik was once a booming re-supply stop for gold prospectors and later grew large enough to boast a post office, three hotels, a blacksmith and a small school, among other institutions. But the promise of more industry and jobs fell through in 1916 when the railroad Knik residents had hoped would foster growth in their town bypassed Knik altogether.
When that happened, most Knik residents moved to either Anchorage or the new town of Wasilla — a migration that is reflected in the demographics of Knik Tribal Council's service area.
"We're a melting pot out here," explains Kevin Toothaker, education and social services director with Knik Tribal Council. "We've got 10,000 Alaska Native and American Indian people living in the (Matanuska-Susitna) Valley who moved from all over remote Alaska because, many of them, they don't want to live in Anchorage, with the hustle and bustle. So they come here, and we love having them bring that culture and diversity into the community because that's the strength of the Valley."
The Knik Tribal Council is composed of about 77 base members — individuals who were originally recognized by the Department of Interior as Knik Tribe — and their descendants. The Council also allows membership for associate members — that is, anyone who is at least one-quarter Native American blood, a U.S. citizen and a resident of the Upper Cook Inlet area.
---
"It's imperative that we bring back more of our history and traditions here…if we can bring a touch of that back, we win. We all win—the Tribe, our neighbors, the Valley wins because that culture becomes real again."
– Kevin Toothaker
---
This variety of background is part of what drives the Tribal Council's mission, says Toothaker. "We're trying to reach out and create opportunities for the whole community, and not just the Tribal portion of the community, because we're all connected."
But Toothaker says that the diversity of the Tribe, of Wasilla and of the Matanuska-Susitna (Mat-Su) Valley inspires him to connect more deeply with the Dena'ina culture. "This is my Tribe, and I want to understand it better. And what we're doing is making a concerted effort to look into the history of the Dena'ina and create more of an identity for all the people who have come here."
That effort encompasses many of the programs and activities offered by Knik Tribal Council, from the annual fish camp, where kids learn to catch and harvest salmon, and beading and sewing classes for Elders, to job placement and training, housing, social and environmental services. But Toothaker has hopes for additional programs the Tribe might one day sponsor. He envisions a food-sharing program for Elders, a community garden and game management that reflects traditional Dena'ina values.
"It's imperative that we bring back more of our history and traditions here," he says. "If we can bring a touch of that back, we win. We all win — the Tribe, our neighbors, the Valley wins because that culture becomes real again."
Because of its history and proximity, Knik enjoys a close relationship with the town of Wasilla, where the Tribal Council office is located. That's why Toothaker sees partnering with local nonprofits, other organizations, businesses and schools as crucial to improving the lives of Tribal members. "It's a win-win situation: The Tribe's partners benefit from the access the Tribe has to unique streams of funding, while the Tribe builds capacity and professional development, and raises awareness for the needs of local people. Through these partnerships, the Tribal Council has begun to address issues such as homelessness, unemployment and keeping kids in school.
Inclusiveness goes beyond the city limits of Wasilla and stretches into the Mat-Su Valley, where the Knik Tribe gathered with the Chickaloon and Eklutna Tribes this summer for an annual Family Gathering. The three Tribes partner to organize the food, venue and activities. "The coolest part is all the drummers and dancers," Toothaker says.
He sees the job of the Tribal Council as a kind of community sociology. "We take a look at these different groups and try to figure out ways to create social collisions and see what that impact is," he says. "We're not just here to help ourselves; we want to help our neighbors, as well."
***
Local Perspective
---
Alfred Theodore
••••
At the museum in Old Knik, the caretaker stops CIRI shareholder Alfred Theodore to ask how she knows him.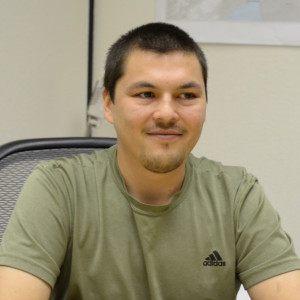 "We used to visit the caretaker here and she would give us snacks and cookies," Theodore explains to a couple of museum patrons. "We loved going to see her because she was so nice. It was good times."
Those good times are hazy because Theodore was only about five or so when he used to accept cookies from the caretaker. Soon after, his family moved to Anchorage, where he would go to elementary, middle and high school before coming back to the Matanuska-Susitna Valley.
"It's nice out here, way better than Anchorage," Theodore says. "Just the freedom you get of walking out your back door into the woods, instead of somebody else's back yard."
Theodore's family has deep roots in Knik and Wasilla, though his cousins are spread out all over the Mat-Su Valley, and beyond, today. In early June, he looked forward to the annual Tribal Celebration, held June 13, where he would meet up with his cousins, aunts and uncles to laugh and share memories.
When he relocated back to the Valley, Alfred Theodore got a job with Knik Tribal Council in the transportation department. He spends his winters clearing driveways for the Elders in his community, and he hopes that the Tribal Council can come up with even more ways to connect Elders and the youth in his community. "The Elders have a lot of knowledge. It's good to get to know what they know for the future. And the past, how they lived."
Theodore is getting a little exposure to the past himself. In the summer, he's a part-time employee with the Mat-Su Borough and works on archeological surveys, finding house pits and cache pits on Borough property.
---
"[The Valley] a good place to live. There's a lot to do here. The Valley is growing so much. Who knows what will happen here?"
– Alfred Theodore
---
"We record everything for future generations to know," he says. "We've found hundreds. It's very rewarding to connect with the past that way. We've found beads, bones — once they found a copper plate, like a breast plate. It's cool, hands-on, actually getting your hands dirty. It's good work."
Even as he makes efforts to connect with the past, he feels the pressure of modern life. "I try to get out and hunt, but I'm becoming more urban. It becomes harder — you've got to have a rifle and freezer space, people to help. I haven't been hunting much."
Instead, he fills his day with work. Driving around the area, he knows every street, every landmark. He has no desire to move elsewhere; this is home. "It's a good place to live. There's a lot to do here. The Valley is growing so much. Who knows what will happen here?"