CIRI shareholders and descendants own and operate a variety of small businesses, ranging from arts, to entertainment and restaurants, to construction. Visit the CIRI website at for a directory of CIRI shareholder- and descendant-owned businesses.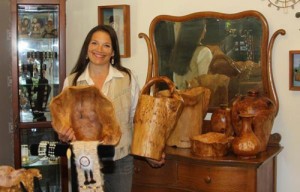 Artworks Alaska
4289 Beaver Loop Rd, Kenai, Alaska
907-283-3689
Bunny Swan Gease, Owner
Artworks Alaska's gallery showcases the cultural arts of Alaska Native people and the ingenuity of the community artists on the Kenai Peninsula including talented guest artists. The gallery sells beaded and carved jewelry, music and stories, ivory, canvas, birch burl bowls, drums, pet collars, glass float mobiles and other fascinating works of art. Artworks Alaska also offers cultural presentations and workshops.
Cozy Cove Inn, Bed & Breakfast
205 Cozy Cove Drive, Homer Alaska
(907) 399-6277
Marcella Suydam, Owner
CIRI shareholder Marcella Suydam owns and operates Cozy Cove Inn, Bed & Breakfast located within the city limits of Homer, Alaska. Guests can experience the Alaskan ambiance of the Bear Paw Studio apartment or the more elegant Forget~Me~Not master suite with scenic views of the snow-capped Kenai Mountains and Kachemak Bay. Within the quiet, serene surroundings, guests will likely see wildlife such as moose, bears, eagles, coyotes and sandhill cranes along with wildflowers and spruce trees.
To list your shareholder- or descendant-owned business on CIRI's website, email[email protected].
Disclaimer: CIRI provides these links to shareholder- and descendant-owned businesses as a service to CIRI shareholders and their families and for informational purposes only. CIRI does not endorse and takes no responsibility for any of the products or services these businesses offer, or the ways in which they offer them. CIRI does not investigate or evaluate the listed businesses in any way, and makes no warranty, express or implied, about the truthfulness of any statement a listed business makes. CIRI reserves complete discretion in deciding whether to list any business, to maintain any listing and to update any listing or link.