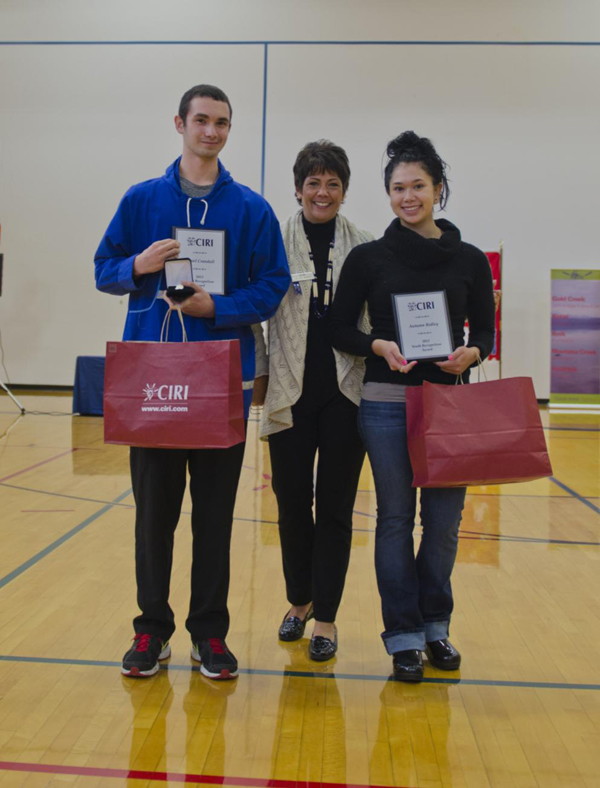 CIRI presented its new Youth Recognition Awards at the Fall Friendship Potlatch in Anchorage on October 20. CIRI descendants Amiel Crandall and Autumn Ridley received the awards for different, but equally impressive, accomplishments.
Amiel Crandall is recognized for his personal growth and community service. After his initial difficulty completing the Southcentral Foundation RAISE program, Crandall successfully turned his life around. He volunteered for community programs, improved in school, became a better communicator and inspires others to follow.
Crandall ultimately received numerous awards from the RAISE program's staff and his peers. Another notable accomplishment was his recent acceptance into Season 2013-2014 of the Alaska Youth Orchestra due to his talents as a cellist. Crandall is the son of CIRI shareholder Amy Roehl-Hanson.
Nominated by Cook Inlet Tribal Council, Autumn Ridley is a talented athlete who has numerous awards from the Native Youth Olympics, including a world record Alaska High Kick set in 2012. The physical strength and mental toughness that led to her success in the games is now focused on mentoring Native youth. Ridley recognizes the importance of teaching others the skills she acquired and passing along this important connection to the cultural heritage of CIRI shareholders. Ridley is the daughter of CIRI shareholder Jacqueline Lee and granddaughter of CIRI shareholder Sophie Nothstine.
CIRI introduced the Youth Recognition Award as part of its outreach to descendants and future owners and leaders of the corporation. Deepening its engagement with shareholders and descendants is one of CIRI's strategic focus areas. The Youth Recognition Award acknowledges youth who are 12 to 17 years of age for superior academic achievements, demonstrated leadership qualities, dedication to Alaska Native culture and heritage, outstanding contributions to community and family, and exceptional determination and stamina in overcoming significant life challenges.