Alaska Native people have much to celebrate during the month of October!
Oct. 12 is Indigenous Peoples' Day, which has replaced Columbus Day in 14 states, including Alaska, and the District of Columbia. The day is a celebration and acknowledgement of the nation's Native populations, and it provides an opportunity to honor Indigenous communities and their resiliency in the face of colonization. Celebrations around Indigenous Peoples' Day often include traditional foods, educational lectures, games, dances and songs.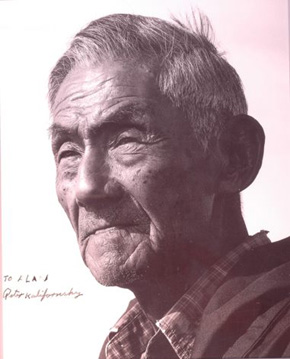 Fittingly, Oct. 12 also marks the birthday of the late Peter Kalifornsky (Dena'ina Athabascan/Kenaitze), who was born in 1911 in Kalifornsky Village, Alaska. An original CIRI shareholder, Kalifornsky is best known as a writer and storyteller and the last Kenai Peninsula resident to speak the Dena'ina language. His is profiled in "Our Stories, Our Lives," a publication of The CIRI Foundation, and was CIRI's Shareholder of the Year in 1990. Kalifornsky won many awards during his lifetime, including Distinguished Humanist from the Alaska Humanities Forum in 1987 and Citizen of the Year from the Alaska Federation of Natives in 1990. His collected works, published in 1991, received a Book of the Year award from the Before Columbus Foundation. Audio recordings of Kalifornsky speaking the Dena'ina language are available on the Kenai Peninsula College website at web.kpc.alaska.edu/denaina.
Oct. 18 marks the anniversary of the first statewide Alaska Federation of Natives (AFN) Convention, which was held in 1966 in Anchorage. A major turning point that aided the formation of AFN was the assistance of the Chief of Tyonek village, Albert Kaloa Jr. Tyonek had recently been awarded $13 million dollars from oil leases on its reserve, and the village provided most of the financing for the first AFN meeting. The annual Convention, which now alternates between Anchorage and Fairbanks, Alaska, serves as the principal forum and voice for the Alaska Native community in addressing critical issues of public policy and government. The first Convention consisted of over 250 Alaska Native peoples representing 17 organizations. AFN's membership now includes 175 federally recognized tribes, 155 village corporations, 11 regional corporations, including CIRI, and 12 regional nonprofit and tribal consortiums. Its annual Convention attracts thousands of attendees from across Alaska and the nation.
Alaska Day, which signifies the 1867 formal transfer of Alaska from Russia to the U.S., is also celebrated Oct. 18. It is an official state holiday in Alaska, meaning schools and many businesses are closed. The Southeast Alaska city of Sitka celebrates Alaska Day in a big way, with a three-day festival that typically includes a costume ball, dance and other performances, a mayoral proclamation, parade and tea at the Sitka Pioneer Home.