By CIRI summer intern Ainsley Fullmer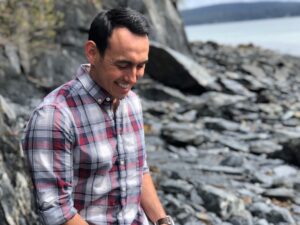 Ben Baldwin (Inupiaq) can best be described as a Renaissance man. Whether he's hand-fashioning watercraft, passing down Indigenous knowledge to younger family members or engaging in subsistence activities, he is constantly learning, growing, helping and teaching.
One constant for Ben is his love for Alaska, and for the Kenai Peninsula in particular. "I've moved twice, and both times I was like, you know what? I want to go back home," Ben laughed.
Ben was born and raised in Soldotna and now resides in neighboring Kenai. Though his family is of Inupiaq descent, culturally, Ben identifies with the Kenaitze Indian Tribe, whose heritage is Dena'ina Athabascan. "When my family moved down to the Kenai Peninsula, the Tribe adopted us," he explained.
Ben is grateful for the family members and Elders who have shared their culture with him over the years, particularly his father and his grandmother.
"Even though Soldotna is predominately white, I grew up with a strong connection to my Alaska Native heritage," Ben said. "I've always been involved with the Tribe. As a kid, I did Native Youth Olympics. I worked at the K'beq' Interpretive Site; for four years I was a cultural interpreter, so I taught people about the culture and history of the Kenaitze and Dena'ina Athabascan people. My dad was on the Tribal Council when I was a kid and also on the board of Kenai Natives Association. My grandmother lived with us the last 10 years of her life, and she was full-blooded Inupiaq. And my grandfather, Dick Baldwin, wrote a book about Alaska's native plants."
Ben was gifted CIRI shares from his father, original enrollee Allan Baldwin, when he was a child, so he also grew up with a strong connection with CIRI. Allan regularly brought Ben to CIRI meetings, making sure Ben knew he was part of something special and demonstrating to him that it was important to participate. Thus, as he grew older, Ben realized that being a CIRI shareholder comes with responsibilities, such as voting in CIRI elections, keeping his address of record updated with CIRI and completing a will for his CIRI shares.
"I remember attending Annual Meetings starting when I was about 8 years old and asking questions: 'Why are we doing this?' I didn't have good questions, but I knew—this is our regional corporation, this is what we do. We're shareholders, we're Native, we're trying to maintain our culture and a bright future for our people."
Those early experiences laid the foundation for Ben's involvement as an adult, and in 2018, he was selected to serve on CIRI's Shareholder Participation Committee (SPC).
With the goal of increasing two-way communication between CIRI and its shareholders, identifying issues of immediate and long-term importance to shareholders and descendants, and educating shareholders and descendants on the corporation's mission, business operations, corporate policies and other matters, the SPC provides a vital link between CIRI and its shareholders.
The SPC is comprised of three subcommittees – the Anchorage Committee; the Alaska Committee, made up of shareholders who live in Alaska outside Anchorage; and the Lower 48 and Hawaii Committee. Ben serves on the Alaska Committee.
"For CIRI shareholders, the No. 1 thing is to get involved, stay involved, seek out knowledge and take an active interest in your corporation. Also, gifting shares to young people when they're still young so they have access to all the opportunities (that CIRI has to offer) is a huge benefit.
"That was one of the things that came out of the SPC meeting this past spring, the importance of stock ownership," Ben continued. "Even though I only have five shares, because I'm a CIRI shareholder, I was able to become a member of the SPC and speak with CIRI Board members and executives and share my perspective. That was a huge benefit not only for me, but for the Board and executives to hear an informed, young voice."
In Ben's spare time, he enjoys camping, hiking and building watercraft. A recently completed project of note is a 17-foot kayak with a cedar-stripped hull and a ribbed and skin top.
As for the future, "I see myself continuing to serve Alaska Native people," Ben said. "Being an Alaska Native person means something; it's the driver behind most of the decisions I make. I want to help as many people as possible, as best I can, for as long as I can."
For more information about the CIRI SPC, visit www.ciri.com/spc.