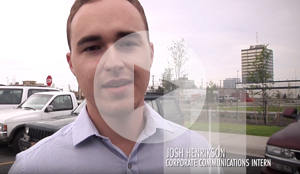 CIRI's internship program for shareholders and descendants is intended to increase shareholder relevance and deepen engagement with the next generation entering the workforce. The program creates opportunities for students and recent graduates to directly apply their education in a practical work setting while gaining excellent experience and insight into CIRI's culture and businesses. CIRI Interns will be provided development and mentorship opportunities in a variety of career fields.
---
Eligibility Requirements
Must be a CIRI shareholder or descendant
GPA of 2.0 or above
Junior or Senior standing and enrolled in a four year degree program OR;
Graduated from a four year program within the past year OR;
Enrolled or recently graduated from a vocational program that is relevant to position applied.
---
Why pick an internship with CIRI?
12 week paid internship from approximately June through August.
Build a network of professional contacts.
Prepare for the transition from student to working professional.
Exposure to careers you may not have previously considered.
Gain valuable experience for your resume.
---
How to Apply
Application period is open year round. Applications must be received by the second Friday of May to be considered for the current year's program.
Visit the Careers Page to apply.
Positions vary each year. Applicants must submit a resume and cover letter explaining why they are interested and how their education and career goals align with an area/department in which they hope to gain work experience.
For questions, please contact Darla Graham, Manager of Shareholder Employment Programs at 907-263-5562 or dgraham@ciri.com.
---
 Scroll through to learn about our past interns!
Randy Armstrong
Randy Armstrong is in his senior year at the University of Alaska Fairbanks studying Economics. He's been working with Pamela Keeler, CIRI's senior director of Risk Management, on insurance claims projects and drafting safety memos. Randy is the "middle" child amongst six siblings. While one might expect some discord with two brothers and three sisters, Randy insists that they have always had a great relationship. Much like an Alaskan Brady Bunch.
When you live in the interior with huge climate swings, you make hay while the sun shines. During the short-lived Fairbanks summers, Randy will grab some friends and go inner-tubing at the nearby lake. Putting in work at the office is a far cry from his previous job: He worked at the quarry in Fairbanks sorting debris and working the conveyor belt. Naturally, he developed an aptitude for safety consciousness, with rocks and heavy machinery constantly posing a hazard.
---
Dajonee "Nene" Hale
Nene's complicated academic career could be best represented by a flow chart, but for simplicity's sake, we will abstain from such measures. She attended high school in Burchell, Wasilla, but played ball at Houston High in Big Lake. After she graduated from high school, she attended Central Methodist University in Missouri with a full-ride scholarship to play basketball as a point guard. Just prior to her senior year, she transferred briefly to Connor State for a fall semester on basketball-related affairs.
The kind folks at Shareholder Relations have plenty of work for Nene this season. She is learning how to locate shareholders, obtain birth records for descendants and distribute dividend checks to CIRI shareholders. "They have me doing a little bit of everything here. It gives you a good idea of what everyone does and the workflow process involved with Shareholder Relations." Nene is given an agenda by her supervisor each day and has a certain level of autonomy that allows her to budget her time and work on her daily tasks.
---
 Andrea Jacuk
Andrea is CIRI's newest IT intern and she's had her hands full these last few months. She is a self-described math and science enthusiast, but she also studies Russian language at the University of Alaska Anchorage as a creative outlet. If ever there were a more opportune internship for a computer science major, this summer would have been it. Andrea has been hard at work making sure every employee here at the Fireweed Business Center has his or her computer up and running. That's 85 employees, counting on her, — and, oh yeah, everyone has at least two monitors. While she is gaining a full range of IT-related experience, she has been concentrating on desktop support.
But beyond the cables and cutting-edge technology lies a person who is deeply connected with her home. After school, will she pack up her bags and move to Silicon Valley where rich hipsters with knit-sweaters and craft beer develop their fortune-making apps? Not at all. Andrea would love nothing more than to keep her talents here in Alaska, and eventually, working with nature conservation efforts.
---
Braden Kinnebrew
It's not hard to pick Braden out of a group of people. Just look for the guy with the gold-tinted sunglasses and a shaved head/full beard combo. Such a look demands a certain kind of personality, and Braden does not fail to impress. Braden Kinnebrew is currently interning this summer with the North Wind Group, a subsidiary company of CIRI.  He is studying project management, entering his senior year at the University of Alaska Anchorage. The folks at North Wind have Braden covering the front desk, answering calls and coordinating logistics for the team.
Braden's life has always revolved around hockey, and anyone who has played hockey knows what that entails. Early morning ice times, ice-cold bleacher seats and locker-room smells that could knock out an ox. Braden played as a defenseman for South Anchorage High School and later for the University of Washington. Braden can't be constrained to four walls. No, this wolverine alum has to move around. He feels right at home with one big oval-shaped wall surrounded by Plexiglas and hometown fans. But if that isn't possible, he prefers to be involved with hands-on projects and moving between the job site and the office.
---
Raymond Redmond
Raymond Redmond is another intern working for Weldin Construction LLC. Raymond has spent the better part of the summer working in the office and traveling to job sites around and in Palmer. Raymond was born and raised in Indian, Alaska, which is just off of the Seward Highway, near Girdwood. He's entering his senior year at University of Alaska Anchorage, majoring in construction management. He almost couldn't ask for a better opportunity than the CIRI internship with Weldin. He had considered other areas of study in business, but he felt he needed to be outside and more involved.
Once the gig is up, Raymond wants to finish his degree at UAA with a minor in Business Administration or Alaska Native Business Management. To cap off this educational achievement, he's off to backpack the European country side in pursuit of the best fishing and skiing spots. Who knows? Raymond might even end up working for one of CIRI's construction services one day.
---
 Joshua Henrikson
Josh Henrikson couldn't resist the opportunity for a CIRI internship and flew up from Washington State to join the other interns in Anchorage. Josh was born and raised in Anchorage, with some extended family in Ninilchik. Prior to enrolling in Bear Valley Elementary, he spent his first two school years at Government Hill Spanish Immersion School. "It helps to know Spanish at these kind of schools," he reflects. With those first few critical developmental years lost in translation, he would eventually graduate from Western Washington University with a Bachelor's in Marketing and Economics.
When not working, Josh enjoys being outside, whether skiing, mountain biking, hiking or kayaking. Some of his fondest memories are fishing with his dad down on the lower Kenai. For the record, he prefers the fight of a rainbow trout to the deep sea combat fishing out in Cook Inlet. Being on a small drift boat hooking a fish with twists, turns and oncoming rapids creates a much more interesting dynamic, he feels.