The success of CIRI depends on shareholders who are excited about participating in their corporation. It is important to teach the next generation about CIRI today so that they are engaged and ready to lead the organization tomorrow. With that in mind, and based on discussions with the Shareholder Participation Committee (SPC) members, CIRI added three youth representatives to the SPC committees.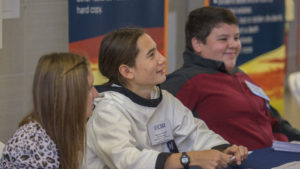 Youth representatives serve for one year by participating in the two-day October meeting, which is generally held in Anchorage during normal school-day hours, and the June meeting, which is generally held the day before CIRI's Annual Meeting of Shareholders and in the same location as the Annual Meeting. CIRI's Annual Meeting is typically held on the first Saturday in June, and the location rotates between Anchorage, Kenai and Seattle. Youth representatives have the opportunity to meet directors, executive and management staff from CIRI and CIRI-affiliated nonprofit organizations, and to hear about CIRI initiatives and business developments and the many programs and services offered by the CIRI nonprofits. In turn, the addition of youth representatives allows CIRI to learn more about what is important to the next generation of CIRI shareholders.
Click here to learn how to apply for a youth representative position.