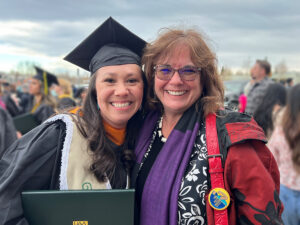 On March 31, original CIRI enrollee Susan Anderson (Tlingit) departed The CIRI Foundation (TCF) after having served as the foundation's president and CEO since 1999.
Anderson was one of the first recipients of TCF scholarships, which she used to earn a bachelor's degree in secondary education and a master's degree in adult education administration, both from Western Washington University. She also holds a post-graduate certificate in project management and was selected to attend the Stanford University Executive Program for Philanthropy Leaders.
"We have scholarship recipients who come and say that TCF has literally changed their lives, and it has changed the lives of their family members," Anderson told the Raven's Circle in 2017. "The recipients are doing all the hard work, but we get to help them along the way."
Anderson's extensive list of volunteer and board service includes the Alaska Children's Trust, Alaska Humanities Forum, Best Beginnings Early Learning Council, Native Americans in Philanthropy, Philanthropy Northwest, United Way of Anchorage and Western Interstate Commission of Higher Education. She is currently a trustee for Alaska Pacific University and serves on the board of Cook Inlet Native Head Start.
In 2018, for her role in strengthening communities through a commitment to improving Alaska's social, economic and civic life, Anderson received the Distinguished Service to the Humanities in Leadership award. She has also been honored with a YWCA Women of Achievement award, an Alaska Village Initiatives Chief's Knife award and an Alaska Journal of Commerce "Top 40 Under 40" business leader award. In 2012, she was inducted into the Anchorage Chamber of Commerce's ATHENA Society.
"For 23 years, Susan has led the efforts of TCF in enriching the lives of thousands of CIRI Shareholders and their Descendants through post-secondary scholarships and grants," CIRI President and CEO Sophie Minich said. "Her commitment to education, culture and heritage will continue well past her tenure at TCF, and we thank her for her many years of dedicated service."
TCF is a private foundation established by CIRI in 1982. Its mission is to promote individual self-development and economic self-sufficiency through education, and to maintain pride in culture and heritage among Alaska Native people who are original CIRI enrollees and their Descendants. Since its establishment, TCF has contributed more than $42.5 million for the Alaska Native beneficiaries of CIRI to participate in post-secondary education. For more information, visit thecirifoundation.org.