CIRI shareholder Lee Stephan remembers a time when there were no cars—not on the Glenn Highway, at least. "In the '60s, you'd walk out to the highway, wait and wait, hours, and maybe one car would go by. Then you'd wave, they'd wave back. Boy, that was great—I saw a car today!"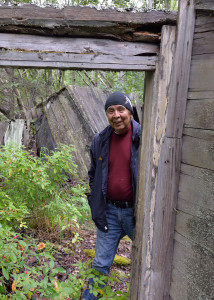 Now, traffic on the highway is more or less constant. It's just one of many changes that's affected the village of Eklutna. Believed to have been established more than 800 years ago, Eklutna is the oldest location in the Anchorage area. Over time, the 326,000 acres designated as the Eklutna Indian Reservation had been reduced to just 1,819 acres; in response, the people of the village established a government office representing the Native Village of Eklutna in 1961 to protect land rights. In 1972, Eklutna Inc. was incorporated under the Alaska Native Claims Settlement Act, eventually becoming the largest private landowner in Anchorage.
"This used to be the center of the village," says Stephan, sitting outside the Native Village of Eklutna Tribal Government offices. He is the tribal council president and serves as vice president for the Eklutna Inc. board of directors. "In the 1960s, they had a community hall over here. Some place to visit and talk and work on the land claims. After the land claims passed, all kinds of organizations wanted things."
Over the years, those same organizations brought change to Eklutna—some good, some bad. In the 1990s, for instance, the village found itself going to court twice over acres located on one of two hills, or "knobs," adjacent to Eklutna, that interested parties, including the Alaska Railroad Corporation and the National Bank of Alaska, wished to rezone for mining granite.
---
"In the early times when I was growing up here, there were maybe 72 or 75 people here. That was Eklutna village. My village, the village I know. I knew everybody by name."
— Lee Stephan
---
Stephan points out that the Dena'ina name for Eklutna is Idlughet Qayeht'ana, which derives from the word "Idluytnu," meaning "plural objects river."
"That means that knob there, the other knob and the river," he explains. "Now, if you plow one knob down, what do you call Eklutna? We won that court fight. In the end, we got the whole Alaska Native community to get behind us."
Land has been an important issue to the village. Eklutna Inc. was incorporated to manage investments for its shareholders and act as stewards of its land holdings. Just last year, Wells Fargo Alaska returned a historically significant piece of land to a nonprofit affiliate of Eklutna Inc. through a donation to The Conservation Fund. The property is home to traditional semi-subterranean dwellings and storage caches that represent the few remaining Dena'ina structures still standing.
The tribal office of the Native Village of Eklutna has headed up a number of land- and environment-related projects over the years, including local river assessments, remediation of the Eklutna Army site and a road construction and maintenance project that provided work for local tribal citizens.
Work is a big concern for Eklutna residents, many of whom commute daily to Anchorage, Wasilla or Palmer. Stephan's son, Jacob, 29, works seasonally in Anchorage, but would prefer to stay closer to home.
"A lot of my friends moved to the Lower 48 for jobs," he said. "But I never thought about leaving. I did worry about finding work because we're so far out here. I usually do warehouse, customer service-type stuff in the winter. In the summer, I fish, hunt, set the net out."
It's the highway that changed many things, adds CIRI shareholder Debbie Fullenwider, former CIRI director and a member of the Eklutna board of directors since 1973. "It used to be just a dirt road that went by the village. Now it's paved and modern and there's more accessibility from the outside to the village, which made these changes."
But the people of Eklutna are making their own changes, too. Community members are active in the Tikahtnu Forum—a collaboration between CIRI and Cook Inlet region tribes, villages and nonprofits—and constantly seek and create new opportunities to bring business to the village. Plans are now in the works for a health clinic that can serve Eklutna and the surrounding area while also providing local jobs.
Even as the people of Eklutna look to the future, though, they have to remember to honor the past, says Fullenwider. "My mother always said, 'Don't forget who you are.' New, modern ideas come into the village, but we can't forget the traditional ways."
***
Local Perspective
---
Deborah Fullenweider
••••
"I haven't retired. I keep hearing that rumor, but I never said I was retiring," insists Debbie Fullenwider. She's served in a variety of leadership positions on the board of Eklutna Inc. since 1973, including president and vice president. "I was the first president of the Eklutna board, and I think it was very unheard of then for a woman to be president. But the shareholders voted me in and the board elected me president."
She's not done serving shareholders and the people of Eklutna; she's just taking some time off. But Fullenwider's sense of responsibility won't allow her to be idle. She currently serves on the Anchorage Centennial Advisory Committee, helping to organize a year of events celebrating Anchorage's 100th year.
Fullenwider, who has been a director for both CIRI and Cook Inlet Tribal Council (CITC) in addition to working for the Federal Emergency Management Agency (FEMA), is motivated by the example of her grandfather, Chief Alex Vasily, the last tribal chief and medicine man of Eklutna.
"My grandfather was Athabascan, like myself, and we're quiet people," she describes. "We go in, we think things over, whatever it is we need to get done, we do. My grandfather taught me that it doesn't matter if you're male or female. You have responsibility. You do what's right for your people."
Part of doing what's right, for Fullenwider, is acting as a good steward of Eklutna's lands and making sure that, even as Eklutna continues to change and grow, the traditional Dena'ina culture of the village is honored and preserved. In 2010, she donated a portion of her grandfather's regalia, carving knives and other rare items to CITC as part of an exhibit of Dena'ina artwork and cultural objects.
"I never learned Athabascan," Fullenwider recalls. "My mother was afraid if I learned the language, they'd make fun of me at school. I had to speak very good English." So she didn't understand her grandfather, who only spoke Athabascan, or know what was happening when she was a young girl with a terrible cold, when Chief Vasily sprinkled oil, rang a bell to chase off evil spirits then made her a tea of dried devil's club.
"I was scared! I didn't know what was going on. But my grandfather healed people; that was his gift. My mother would translate for him. Now, I'm proud of my cousin, Aaron [Leggett], who is learning a dialect of Athabascan."
---
"My mother was afraid if I learned the [Dena'ina] language and went to school, they'd make fun of me. So I had to speak very good English. They were so afraid we'd be made fun of or admonished for speaking the language of our parents and grandparents."
— Deborah Fullenweider
---
The sense of responsibility Fullenwider's grandfather instilled in her extends to other members of her family, too, including Aaron's brother, Adam. "I'm very proud of him, too—he's running for the board for the Native Village of Eklutna. And my daughter, Kim Zello—I groomed her for all these years so one day, if I retire, she can take my place."
"If" being the operative word: Fullenwider is still working hard, with no plans to slow down in the near future. On a recent visit to the new Fireweed Business Center, still under construction, she wore red and black—her grandfather's colors—to honor the past even as she looked toward CIRI's future, and her own.
"My father, who was from Glasgow, Scotland, always said that education was important, and through it, we could progress," she reflected. "Now we've got technology, things are developing and changing, and we have to keep up with that. I'm not going to be left behind."