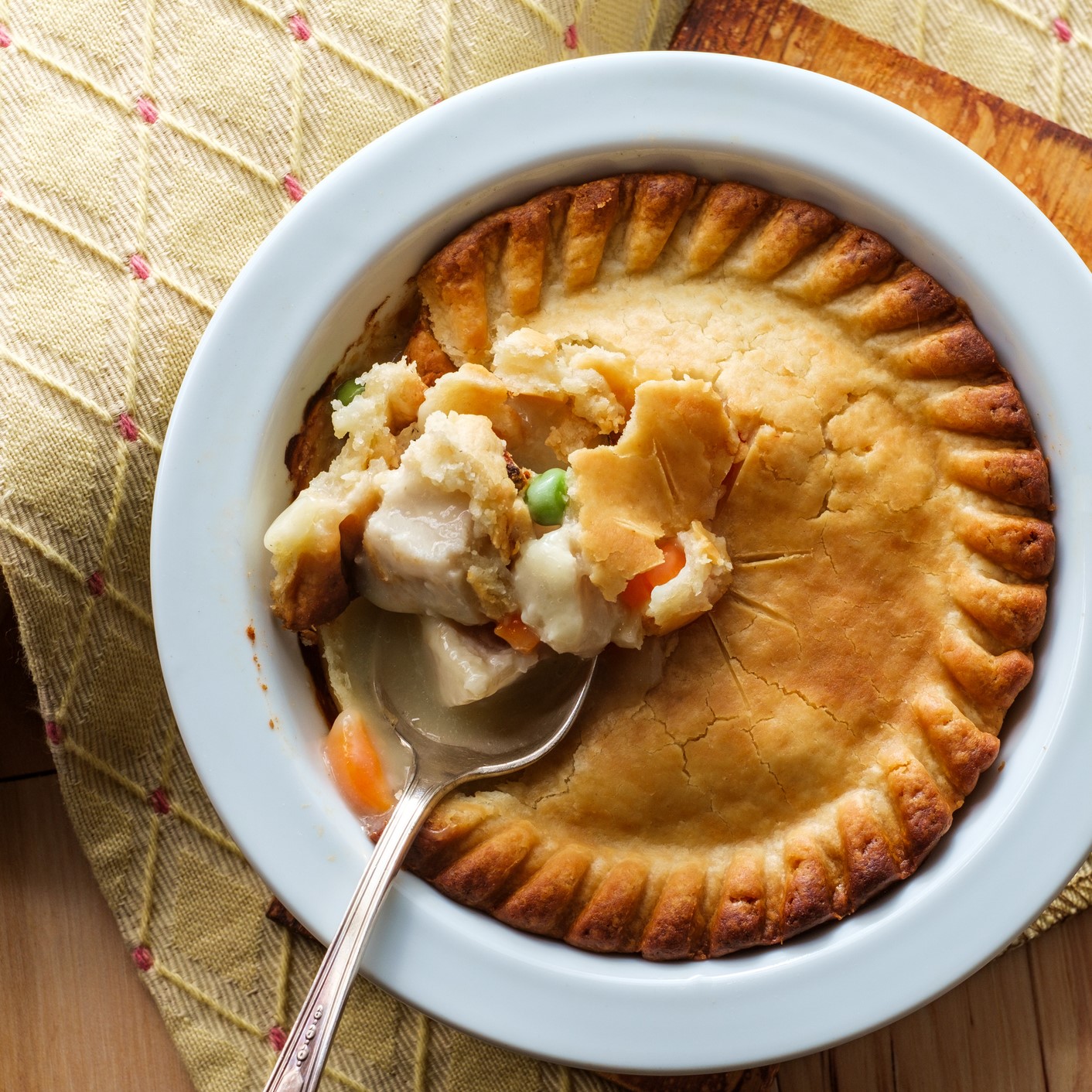 Adapted from the recipe by Holly Nilsson, spendwithpennies.com.
As the author wrote about this recipe, "The perfect way to enjoy leftover roast turkey. A creamy filling loaded with turkey and veggies is tucked inside a flaky pie crust and baked until golden and bubbly."
START TO FINISH: 1 hour 20 minutes (20 minutes active)
INGREDIENTS:
1 egg, beaten
1/3 cup butter or margarine
1 onion, diced
1/3 cup flour
1/2 teaspoon poultry seasoning
1/4 teaspoon thyme
1 cup chicken broth
2/3 cup milk or cream
1 potato, diced and cooked
1½ cups frozen mixed vegetables, defrosted
2 cups leftover turkey, or substitute leftover rotisserie chicken
1 double pie crust (if crusts are frozen, let package stand at room temperature 60 to 90 minutes before unrolling)
DIRECTIONS:
Preheat oven to 400 degrees. Whisk egg with 1 tablespoon water. Set aside.
Sauté onion in butter or margarine over medium-low heat until tender, about 5 minutes. Add flour, poultry seasoning, thyme, and salt and pepper. Cook 2 additional minutes.
Whisk in chicken broth and milk a little bit at a time, stirring after each addition. You may add a bit more broth if mixture is too thick. Bring to a boil over medium heat, simmer 1 minute and remove from heat. Stir in turkey and vegetables.
Line a 9-inch pie plate with one of the crusts. Fill with turkey filling. Brush edges of crust with egg wash and top with second crust. Pinch edges to seal and cut a few slits to vent pie. Brush with egg wash.
Bake 35-40 minutes or until lightly browned and filling is bubbly.
Cool for 10-15 minutes before serving.
The Raven's Circle would like to feature our readers' favorite recipes! To submit, visit ciri.com/recipe.