June 7, 2013 marks the hundred year anniversary of the first team to successfully reach the summit of North America's highest mountain, Denali. Hudson Stuck (Archdeacon of the Yukon) was the team leader; however, it was Walter Harper who became the first person to summit the mountain.
On June 7, a team of direct descendants from the original team, including Episcopal Bishop of Alaska Mark Lattime, will begin retracing their ancestors' steps in a centennial climb. The centennial team includes CIRI descendant Dana Wright. Wright is the direct lineal descendant of Walter Harper and son of CIRI shareholder and employee Johanna Harper.
The Denali 2013 Centennial Climb and Celebration mission is to inspire Alaska Native youth by celebrating Athabascan heroes while educating children and the broader public about the history and the accomplishments of the original climbing team.
According to the Denali 2013 Centennial Climb team, "100 years ago they climbed to draw attention to the rights of Alaska Natives. 100 years later, we climb for the same reason and to tell their story."
The Denali Centennial Climb is free for all to follow online, in real-time beginning June 2013 at
www.denali2013.org
. The website currently includes educational materials and videos. The Denali Centennial Climb, website and educational materials are made possible through donations that can be made online via the Denali 2013 website.
——————————————————————-
The following, Triumph to Tragedy, is part one of a two part short story CIRI shareholder Jan Harper Haines wrote. The June 2013 Raven's Circle newsletter will feature part two.
TRIUMPH TO TRAGEDY
The Short Life of Walter Harper, Part 1
By Jan Harper Haines, CIRI shareholder
In March 1913, three men and two boys, led by Archdeacon Hudson Stuck left Nenana with two dog teams intent on reaching the base of Denali. One boy remained at base camp, the other returned to Nenana and the four men tackled Denali.
On June 7, Walter Harper, at age 21, became the first man in history to summit The Great Mountain.
In 1992, my husband and I visited the Evergreen cemetery in Juneau where my great uncle, Walter Harper and his bride, Frances, are buried. The markers are concrete, flat, broken and falling apart, as are many others nearby.
My mother, Jane Harper Petri, once told me that Walter was a major source of bragging material to her family. When I was a child, he was larger than life and seemed too famous to be real.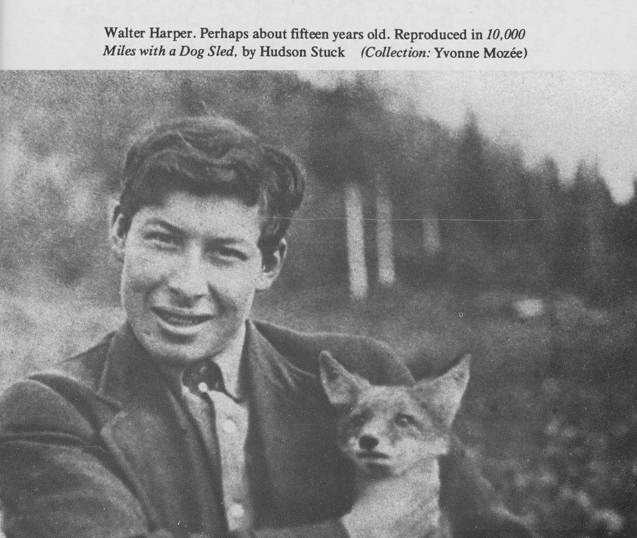 According to his sister, Margaret, "Walter had personality, scads of it. Everybody liked him. The girls were crazy about him."
My grandmother was infatuated with Walter before she married his older brother, Sam. "So why didn't she marry Walter?" I asked Mom.
"All the girls knew Archdeacon Stuck (Walter's teacher) had plans for Walter's education," she said. "They didn't include being burdened by marriage and kids."
Until he was sixteen, Walter spoke only his mother's Native language, Koyukon Athabascan. Under the tutelage of Dr. Hudson Stuck, an Episcopal archdeacon, Walter learned to read and write in English. An eager student, he continued with other studies in preparation for university. When Stuck traveled to villages, Walter served as his interpreter. In the winter, he was Stuck's dog handler and in the summer his boat engineer. Stuck said of Walter, "He was the best that the mixed blood can produce."
Among their mountaineering party of six, only Stuck had climbing experience. In his book, The Ascent of Denali, the archdeacon – a veteran climber of the Colorado and Canadian Rockies and Mount Rainier – described himself as a missionary, not a professional climber.
Walter was not a climber. His nephew, Don Harper said in a television interview in 2007, "To my knowledge, I don't think (Walter) climbed anything (before Denali)."
The rest of the party included Robert Tatum, a postulant for holy orders; Harry Karstens, an experienced outdoorsman, and two Athabascan boys — John Fredson, 15 and Esaias George, 14.
In preparation for the climb, Stuck had ordered supplies from Seattle, but only half arrived. Stuck described the ice-axes as "ridiculous gold-painted toys with detachable heads and broomstick handles…the points splintered the first time they were used." Additional money was needed – from a budget of $1,000 – to have axes, crampons and silk tents made in Fairbanks. The heavy regulation alpine boots he ordered arrived in sizes too small and were useless. Stuck bought rubbersoled snow packs and attached leather soles and nails. The men also wore large size moccasins along with "five pairs of socks."
After months of preparation and caching supplies by dog team and boat, the party left Nenana with fourteen dogs and two sleds. Their cached supplies in Kantishna weighed one and a half tons and required several trips to move their equipment some fifty miles to the base of Denali.
——————————————————————-
The June 2013 issue of the Raven's Circle will feature part two of "The Short Life of Walter Harper" which includes excerpts of Harper's diary written during the summit and descent of Mt. Denali and the personal reflections from his family about the legacy he left behind. 
Jan Harper Haines is the author of "Cold River Spirits: Whispers from a Family's Forgotten Past" and her short stories have appeared in literary magazines and online at www.growingupanchorage.com.