Qenek is better than ever!
Qenek is a Dena'ina Athabascan word that means news or information. CIRI's Qenek portal is a free online resource that provides easy access to a wealth of news, information and forms, while also offering the convenience of performing certain tasks and record changes online. Recent improvements have rendered Qenek an even more valuable tool.
Expanded eDelivery options
We are excited to offer new electronic delivery options that allow both shareholders and CIRI to lessen our environmental impact. These include eDelivery options for Annual Meeting materials, tax forms, CIRI Settlement Trust materials and other communications from CIRI and its affiliated nonprofits. Because some shareholders have said they do not wish to receive them, we've also included an option to opt-out of receiving CIRI calendars, and there's even an option that allows us to communicate with you via text messages.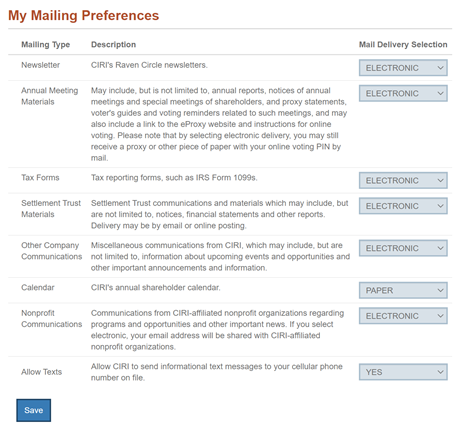 Signing up is easy. In Qenek, click on the Update my Contact Info or the View or Change my Mailing Preferences hyperlink to view options, change your delivery preferences and reduce paper waste and clutter.
Enhanced security through two-factor authentication
Two-factor authentication offers an extra layer of security designed to help ensure that you are the only person who can access your Qenek account. With two-factor authentication, along with your password, you must now also enter a unique, temporary verification code when signing into Qenek. The code will be sent via text message to the cell phone number or email address you have on file with CIRI. Once you are signed in, you may change the method of two-factor authentication by selecting the My Account hyperlink on the top right side of the Qenek home page. As always, Qenek sign-in information should be treated confidentially and not shared. Visit qenek.ciri.com/Account/Security for more security tips.
Wills
The dates of all Wills a shareholder has on file for their CIRI stock now display in Qenek, making it easy to consider if the most recent Will might be outdated. As a reminder, CIRI urges each shareholder to update his or her Will after giving or receiving a gift of stock, upon the death of a designated beneficiary or if additional shares are inherited. Marriage, divorce, the birth or adoption of children and other life changes are also reasons to complete a new Will. As before, an alert displays on the Qenek home page if there is an issue with the most recent Will on file with CIRI.
Descendant access
Adult CIRI descendants who have registered with CIRI may now create Qenek accounts to access news and information, more easily keep their contact information updated and even request replacement ID cards. Along with having their names entered into quarterly descendant prize drawings, registered descendants with valid email addresses on file will now also be entered in quarterly Qenek drawings for a YETI cooler!
Our Alaska Native ancestors relied on and worked in harmony with the earth to feed themselves and their families. Today, we respect and embrace our history and heritage through responsible stewardship of our land and resources. We hope you will consider reducing your environmental footprint by accessing the Qenek portal to manage your CIRI records and take advantage of the new eDelivery options.