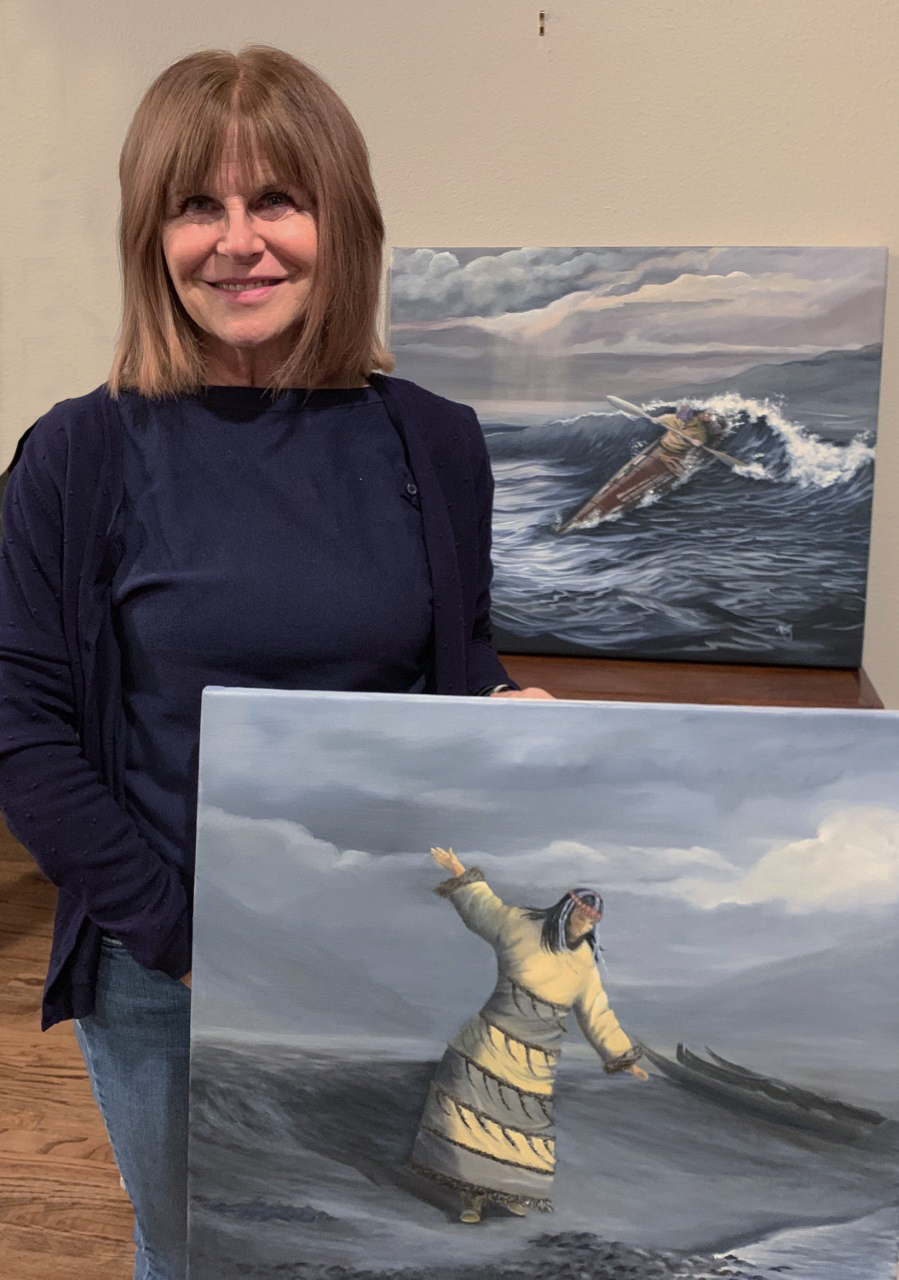 CIRI shareholder Rhonda Shelford Jansen's (Unangan/Aleut) art may evoke images of the past, but it took coming into her own as an adult and evolving past a "fear of failure that begins to diminish when you reach middle age" to commit to the act of creating said art.
"When you are any kind of an artist, you're baring your soul, and it's a scary thing for people to reject your soul," Rhonda said. "Don't be afraid; set it out there. You have nothing to lose."
Rhonda's artistic style is influenced by her family's history in Alaska's commercial fishing industry and her Alaska Native heritage. She grew up in Homer, Dutch Harbor and Kodiak, Alaska, before moving to Washington State at age 14. She is connected to CIRI through her paternal grandmother, original shareholder Lydia Resoff Shelford. Rhonda is also an original enrollee of the Aleut Corporation and a tribal member of Ninilchik Village Tribe.
Lydia had a formative and lasting influence on her granddaughter's art. "I was always creating art," Rhonda recalled. "My grandma saw that I was sketching all the time and she was an artist herself, more or less self-taught. She was a painter and she started teaching me. When we were living in Homer, she would encourage me to enter art contests on the Kenai Peninsula. We would go (to the contests) together, and it's a wonderful memory. I wish she could see what I'm doing today."
Lydia moved with the family to Washington State and passed away at the age of 86. Rhonda didn't realize her grandmother was an Alaska Native person until the Alaska Native Claims Settlement Act (ANCSA) passed in 1971. "There was a lot of shame (in being an Alaska Native person) back in those days," she said. "When my grandma and my dad came down to the states for a while when he was a kid, they weren't treated well at all. She had a Russian last name, 'Resoff,' that the (Russian Orthodox) church had given the family, and it was just safer to say they were Russian. ANCSA passed when I was 12 years old and it was at that time I realized I was a Native person. I thought, 'Wow, now I know why I always favored the Indians in cowboy and Indian movies!'"
Rhonda has fond memories of her formative years in Alaska. Her father, Leeland "Sonny" Shelford, was a commercial fisherman who owned one of the first canneries in Homer. The family didn't have TV and there were no paved roads, "so we were out in the woods all day in the summer and ice skating on Beluga Lake in the winter. We were so free; it was an amazing childhood," Rhonda recalled. Relocating to Dutch Harbor during her middle-school years "was one of the most incredible adventures of my life."
While Rhonda has called Washington's Puget Sound area home for more than 40 years, "every time I step off the airplane in Alaska, I feel like I'm home," she said. "When you spend your childhood here, it's your roots; it never goes away. All the connection to Alaska is so meaningful to me. I love fostering my Native heritage and take pride in being a CIRI shareholder."
After raising three children, Rhonda suddenly found herself with some unexpected time on her hands. "Four years ago, I thought to myself, I'm getting old—what do I want to do with my life? I thought, I want to do art, so I got myself one of those big easels and just started painting."
Rhonda specializes in traditional paint media and abstract and seascape photography. Her paintings reveal soft, natural tones juxtaposed against rugged mountains and coastline. Many of her paintings feature Alaska Native scenes. "You have to go back in time to see what the people were wearing, what their tools were like, all that kind of stuff," Rhonda explained. "I do take a little bit of artistic license, but I have notebooks full of archival information. My goal is to paint all the various Alaska tribes, not just my own."
Rhonda's artwork can be found at the Alutiiq Museum in Kodiak, Stephan Fine Arts in Anchorage and the Museum of the Aleutians in Dutch Harbor. Her paintings can also be viewed and purchased via the CIRI Alaska Native Artist Directory at ciri.com/artistdirectory.
"While I was raising kids and doing a lot of volunteer work, I would paint maybe one picture a year. Now if I'm in the middle of a painting, I can easily paint five hours a day," Rhonda said. "When it comes to art or any endeavor, just be you; if people want to judge you or reject you, that's their problem. Fulfill your dreams. Don't be afraid; you're never too old. Just do it, and the more you do it, the better you'll get. Be humble, but keep trying."