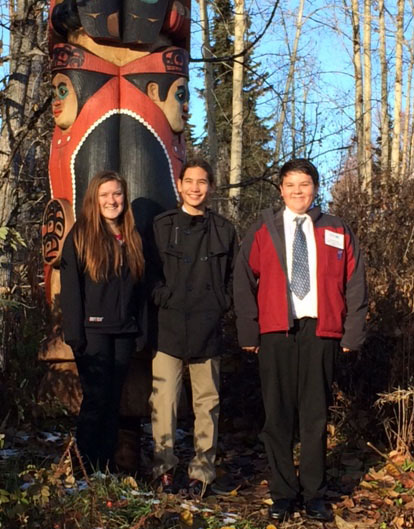 During a recent tour at the Alaska Native Heritage Center, Director of Education Steven Alvarez paused before a totem pole to tell a story to an exclusive audience. The Elder at the top of the totem pole, he told his listeners, is shown opening a box that contains knowledge. He passes it on to the Native people below, and they pass it on to the girl and boy at the bottom of the pole, who represent the young people of future generations.
The story was especially meaningful for Alvarez's audience: the three newest CIRI Shareholder Participation Committee (SPC) Youth Representatives. In Anchorage for the October SPC meeting, the young people were selected earlier this year after submitting an application, an essay and letters of introduction and recommendation.
Each of CIRI's Youth Representatives represents one of CIRI's three geographical regions. CIRI descendants Parker Pickett, from Anchorage, Katherine Clark, from the Alaska/outside of Anchorage region, and Kayleb Brooks, of the Lower 48 and Hawaii region, were selected from the pool of candidates to serve for one year. Youth Representatives participate in the SPC's two-day October meeting and provide feedback to CIRI about the issues that are important to the next generation of CIRI shareholders. To find out more about becoming a CIRI Youth Representative, visit ciri.com/shareholders/descendants/youth-representatives/.